Breaking The Spine
where we post one of our most anticipated releases of this upcoming year.
This week I am spotlighting a book that I am so so so excited about... I mean, isn't that what this is about? The books cover was finally revealed this past week, and it is gloriously beautiful.
This is one of my most highly anticipated books of the year, in the top 5 as I said in my
Love A Thon Questionnaire
.... (And Jenna did too.)
and without further ado the book I am anticipating is...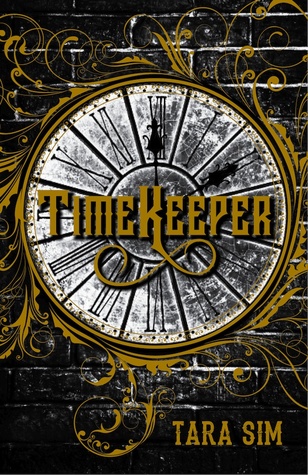 TIMEKEEPER BY TARA SIM!
LOOK AT THAT COVER!!!!
First of all, clocks, and spirits.
Second of all, this is a historical fiction set in...
Third: An alternate Victorian England...
Fourth:
Danny must race to prevent Enfield from becoming the next target or he'll not only lose his father, but the boy he loves, forever. *SCREAMS IN GLEE*
I'm excited. So, so so excited.
Sadly... It does not release until November 1st,2016 from Sky Pony Press... but I mean... That's only... 7 months away... *sheds tears* I can totally survive tell then... I swear... *dies*
But, In the meantime we can continue stalking Tara on twitter @EachStarAWorld and continually tell her how much we want her book, and how excited we are. And continually bother her because we are obsessed with the idea of her book, and are certain we will love it as much as we think we will.
Not only am I super excited for this book, Tara is such a kind person! I love when authors are such kind people because it makes them seem more real to me, and more approachable. Tara may have written something that seems like the stuff of gods, but she is human, and it makes me happy. (I mean, I think she is human... it hasn't been confirmed nor denied.)
Timekeeper just seems like everything I have ever wanted in a book. The book discusses time, which I have always found incredibly fascinating, and involves spirits, which are Jenna's favorite things ever along with clocks. I also love clocks, because time. It's so interesting to think about and can provide so many great conversations. Plus there is a m/m romance... which yay for diversity and happiness on my part.
I am excited, and I hope you will all join me in on the countdown until it's release!!!
Which as of March 15th is about 230 days from now!!! (According to some math I just did...)
ADD IT ON:
Goodreads
PREORDER HERE:
Barnes & Noble
Amazon
The Book Depository
JOIN THE MECHANICS UNION:
www.tarasim.com