Top Ten Tuesday is a weekly meme created over at
The Broke and Bookish
They love lists over at Broke and Bookish, and so do I, so when I heard about this feature, I was pumped!
This week's topic is in the title, books that I loved and have not talked about enough!!!
1. The Darkest Minds Trilogy by Alexandra Bracken.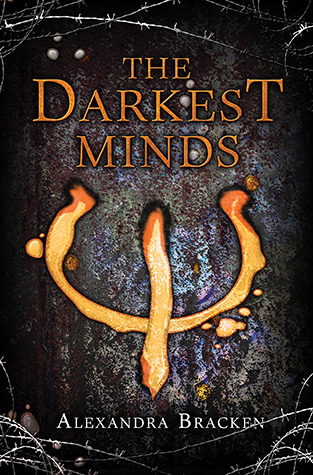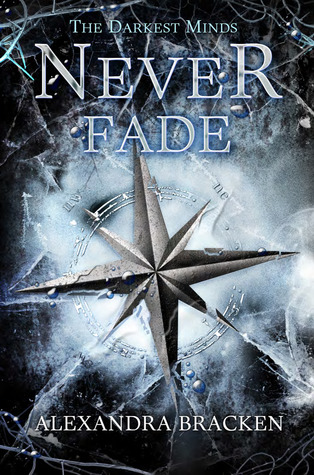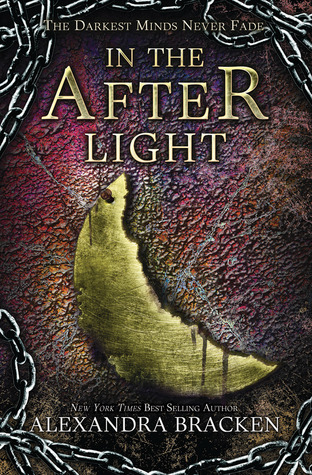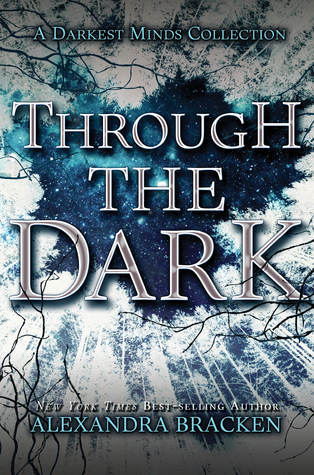 The story of me and this series, which is now my favorite, is an odd one. I picked up the first book because of its GORGEOUS cover, not too long after its release. I let it sit on my shelf for awhile, before picking it up my freshman year of high school. I read about 150 pages in, and then I put it down because I wasn't feeling it, I wasn't enjoying it as I thought I would. It was mostly because of my English teacher that year, I couldn't enjoy anything while in that class... But then, almost two years later, I decided to pick it up once again, and I FLEW through it. I ordered the next books immediately and read this series in record time.
I have never written anything about these books, I didn't review them, because I hadn't started reviewing yet. But when I reread them, I will be and I will be able to tell you about them in all there glory, with memories fresh in my mind.
This book follows Ruby after IAAN (a disease of sorts) strikes everywhere, killing lots of children. The government ends up deciding to collect the kids that live and put them into camps for protection. Read the back (or inside flap) of the books or just look them up on Goodreads, but good heavens read these books!
These books have made me laugh, and cry, and everything in between. I love these characters,(Primarily Jude, and Zu, and Liam, and Chubs, and Vida, and Ruby, and every-last-character-ever-really) and I feel like I know them personally. I feel like they are my best friends. I wouldn't trade my experiences with them for the world.
Alexandra Bracken has DESTROYED me time and time again. And yet I keep going back, because she is phenomenal.
2. Simon vs the Homo Sapiens Agenda by Becky Albertalli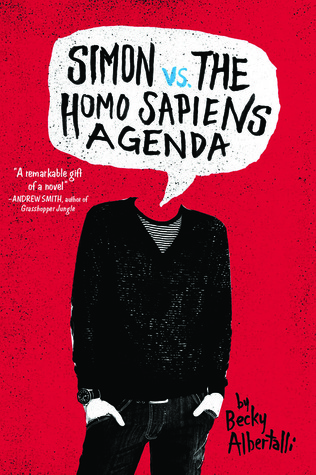 This book is one that I wanted since it's release, but I never purchased it for whatever stupid reason. But then I bought this on my kindle and devoured it in one day. Needless to say, I loved it. I wrote my review of it in a stupor of glee and exhaustion as it was almost midnight on New Years, probably a little after, as I wrote my review.
This book is adorable. In every single way. And you will love all of the characters. You will crave Oreos. You will dance around your house in glee. You will love every moment of this book, because it's practically impossible not to. Seriously.
Simon Spier is an UNFORGETTABLE character. I loved him. His relationship with Blue is one of my favorite relationships in all of YA literature. It's cute as all hell, and you will root for them the entire way through. Definitely an OTP.
And then, you will talk to the author on twitter, telling her how much her book means to you, and how wonderful it is, and how much you love it. And you will learn something. The only thing better than this book is the author herself. You will find that Becky Albertalli is one of the sweetest people on this planet, and will gleefully talk to you. She is wonderful everyone, no joke. I cannot wait to meet her one day!
I highly recommend this book for anyone who craves a cute glbt book that ultimately deals with difficult topics, that anyone who identifies as LGBTQIA+ will likely relate to. I cannot recommend highly enough.
3. The Legend Trilogy by Marie Lu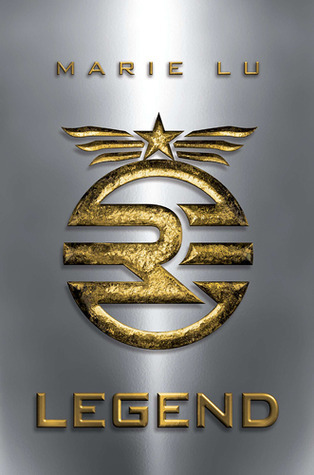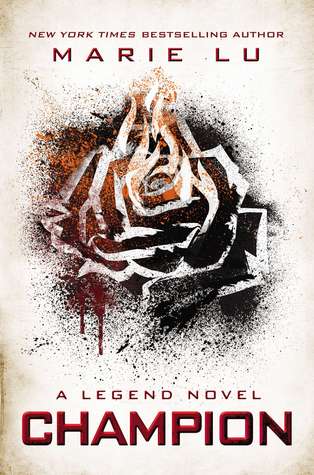 Another trilogy that I really haven't talked about enough, and cannot really talk about it with justice. This is another one of my favorite trilogies. And favorite authors, by far. Marie Lu is an absolute genius with the way she weaves stories along. This trilogy, and The Young Elites for that matter, are beautifully written with unforgettably dynamic characters.
The trilogy follows June and Day, who have come from two very different walks of life. And boy do they tell a compelling story. This is a dystopian book, but really well done!!!
Champion destroyed all of my feels. And I really think everyone should read this. (Just ask Lauren DeStefano and she'll tell you all about it!)
4. A Monster Calls by Patrick Ness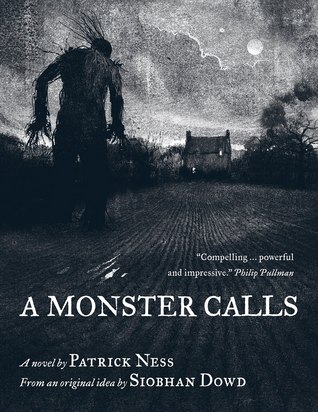 First of all, I LOVE Patrick Ness. His Chaos Walking trilogy was one of my favorites growing up, and I really need to own them. But this is something different, something special, and beautifully heartbreaking.
The artwork inside is absolutely breathtaking, and horrifying, and beautiful. And I cannot really explain this enough. You MUST buy a physical copy of this book. It is 10000x worth it.
The storytelling is beautiful, and the story will break your heart. So don't read this unless you are ready to be destroyed. It is a compelling story about a boy and his mother who has cancer, and metaphors of monster are used, and nothing I could ever, ever talk about would give you the right idea. Just, READ THIS BOOK. It's also going to be a movie at the end of 2016. I think it will be beautiful, and if it isn't I am going to be angry...
5. The Thief Lord by Cornelia Funke
It has been so many years since I have read this book, and I don't quite remember a whole lot about it, except for an abandoned movie theater in Venice. As well as that the story follows orphan boys. I also remember that this was my FAVORITE book ever as a kid. That along with Cornelia's Inkheart series. I think that is still the series that truly got me into reading... It may have been Kathryn Lasky's Guardian's of Ga'Hoole, but it was definitely those.
I have reoccurring dreams about this book, and it is the only reoccurring dream I have had, at least that I can remember, and I just loved this book so much, that I feel like it HAD to be included on this list <3
6. Every Day by David Levithan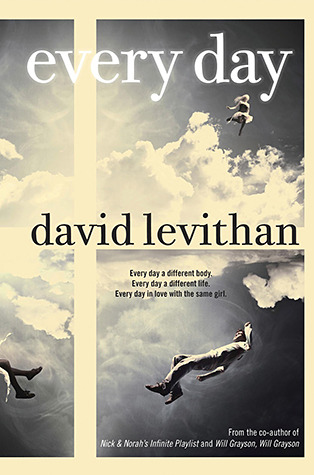 This list would never be complete without this book. This book is something incredibly special and follows A, someone who changes bodies every single day. Never the same body twice. You might be thinking
What the hell?
And you would be correct. This book is phenomenal and really comments on the ability to love someone no matter what their appearance on the outside is.
This is a love story, but I think the even stronger part about this story is it's ability to draw you in, and the stories incorporated from these other people's lives, that A controls for a day. A's effect on everyone is truly breathtaking. I cannot recommend enough.
7. More Than This by Patrick Ness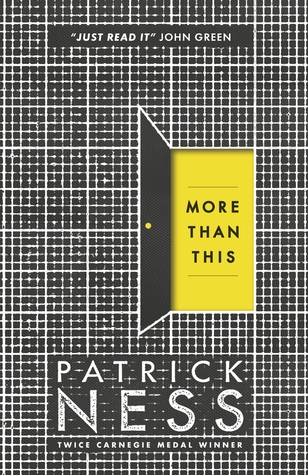 I wasn't going to include an author more than once, but Ness deserves it. Excuse my language, but this book is a total mindfuck. No joke. It blew me away. It is complicated. It is confusing. It is beautiful. It is devastating. It tells a wonderful story, and you will wonder what the crap is going on.
Ness writes wonderfully, and this book is the highlight. It's better to go into this with no preconceived notions cause anything you think this is going to be, it won't be. It really won't be. It's that insane. Read it.
I am going to stop at 7 for this week, and hopefully actually make it to 10 for next weeks TTT. Hope you all enjoyed!
Are there any books I should keep my eye on if I haven't read them? Let me know in the comments!!!
- Cody @ Roecker Reviews :)