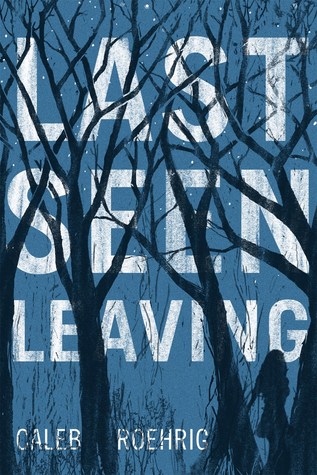 October 4th 2016
This week my choice is Last Seen Leaving by Caleb Roehrig!!!!
I actually already have this book (in eARC form), and should have read it by the time this post has finally posted for you all. But still, I am freaking excited.
Goodreads Synopsis: Flynn's girlfriend has disappeared. How can he uncover her secrets without revealing his own?

Flynn's girlfriend, January, is missing. The cops are asking questions he can't answer, and her friends are telling stories that don't add up. All eyes are on Flynn—as January's boyfriend, he must know something.

But Flynn has a secret of his own. And as he struggles to uncover the truth about January's disappearance, he must also face the truth about himself.
1. Suspense novels, in any form, are my favorite.
2. I've heard great things from @rstrolle
3. I started this and the writing is beautiful.
4. SECRETS
5. Missing girlfriends.
6. Hey Flynn, I'm excited to see you grow into yourself.
7. I know Flynn is gay (or bi?) and I'm excited.