Breaking The Spine
where we post one of our most anticipated releases of this upcoming year.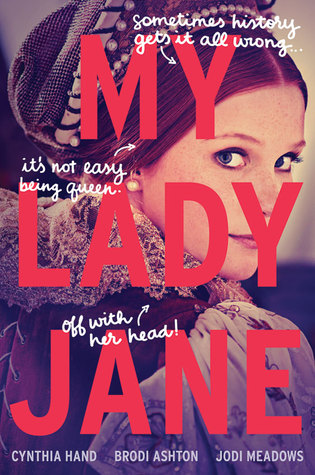 June 7th, 2016
The comical, fantastical, romantical, (not) entirely true story of Lady Jane Grey. In My Lady Jane, coauthors Cynthia Hand, Brodi Ashton, and Jodi Meadows have created a one-of-a-kind fantasy in the tradition of The Princess Bride, featuring a reluctant king, an even more reluctant queen, a noble steed, and only a passing resemblance to actual history—because sometimes history needs a little help.

At sixteen, Lady Jane Grey is about to be married off to a stranger and caught up in a conspiracy to rob her cousin, King Edward, of his throne. But those trifling problems aren't for Jane to worry about. Jane gets to be Queen of England
THOUGHTS:
Well, EVERYONE RAVES ABOUT THIS BOOK. I have seen like ONE review that was like "Hey this wasn't my favorite." But they still gave the book three stars!!! That's really saying something!
And honestly, this is something so different than what I usually read, and from what is actually out there on the market! So I am super duper excited about it!!!
I hope its as hilarious and glorious as I've seen from other readers! I'm super excited to pick this up on June 7th and rave with everyone else!
Buy it here: