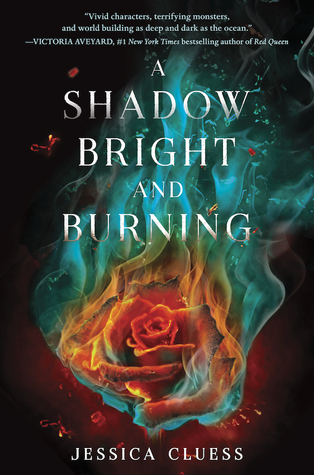 September 20th 2016
This week I have chosen a BEAUTIFUL book...
A Shadow Bright and Burning by Jessica Cluess!!!
Goodreads Synopsis:
Henrietta Howel can burst into flames.
Forced to reveal her power to save a friend, she's shocked when instead of being executed, she's invited to train as one of Her Majesty's royal sorcerers.

Thrust into the glamour of Victorian London, Henrietta is declared the chosen one, the girl who will defeat the Ancients, bloodthirsty demons terrorizing humanity. She also meets her fellow sorcerer trainees, handsome young men eager to test her power and her heart. One will challenge her. One will fight for her. One will betray her.

But Henrietta Howel is not the chosen one.
As she plays a dangerous game of deception, she discovers that the sorcerers have their own secrets to protect. With battle looming, what does it mean to not be the one? And how much will she risk to save the city--and the one she loves?

Exhilarating and gripping, Jessica Cluess's spellbinding fantasy introduces Henrietta Howel, a powerful, unforgettable heroine, and an entertaining world filled with magic, monsters, and mayhem.
1. This book first caught my attention when Adam Silvera posted that he wanted this book so badly that he would burst into flames to get it (or something along those lines) and so I was curious... and then I laughed when I read the synopsis and saw what this beauty was going to be about!
2. YAY FLAMES
3. VICTORIAN LONDON.
4. Demons, Bloodthirsty, Sorcerers, Deception, Magic, Monsters, and Mayhem! AHHHH
5. NOT THE CHOSEN ONE. THANK YOU!!!!! FINALLY
6. I've heard about a love square? I'm okay with this. When well written I actually love it.
7. Spellbinding is like my bread and butter. Say it and it will catch my attention and make me most likely want to read that book.
8. Also, Jessica Cluess is so sweet. I have interacted with her on twitter a few times and it makes me THAT much more excited to read the book! (Which by the time this has posted I will have most likely read this! A review should be going up soon!)