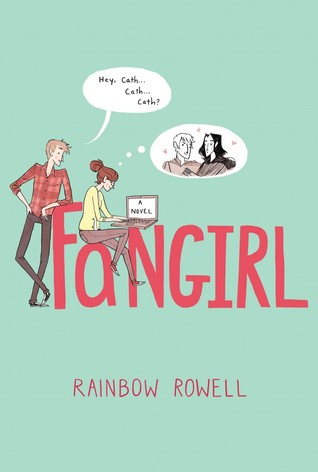 Title: Fangirl
Author: Rainbow Rowell
Genre: Young Adult, Contemporary, Coming of age
Rating: 4 stars out of 5
Goodreads synopsis:
A coming-of-age tale of fan fiction, family and first love.
Cath is a Simon Snow fan.
Okay, the whole world is a Simon Snow fan...
But for Cath, being a fan is her life—and she's really good at it. She and her twin sister, Wren, ensconced themselves in the Simon Snow series when they were just kids; it's what got them through their mother leaving.
Reading. Rereading. Hanging out in Simon Snow forums, writing Simon Snow fan fiction, dressing up like the characters for every movie premiere.
Cath's sister has mostly grown away from fandom, but Cath can't let go. She doesn't want to.
Now that they're going to college, Wren has told Cath she doesn't want to be roommates. Cath is on her own, completely outside of her comfort zone. She's got a surly roommate with a charming, always-around boyfriend, a fiction-writing professor who thinks fan fiction is the end of the civilized world, a handsome classmate who only wants to talk about words... And she can't stop worrying about her dad, who's loving and fragile and has never really been alone.
For Cath, the question is: Can she do this?
Can she make it without Wren holding her hand? Is she ready to start living her own life? Writing her own stories?
And does she even want to move on if it means leaving Simon Snow behind?
Review:
This book had me smiling like a lunatic. It was so freakin cute. This was my first Rainbow Rowell book and definitely not my last. I have a feeling all her other books will be just as cute if not more so.
Cath. Cather. Cather Avery. She is such a great main character and by the end of the book you can just see she has gone through amazing character development. She is an introvert just like I am, and I really understood her nervousness when met with the truly intimidating task of socializing with other human beings. Although, she is so introverted at times I just wanted to yell at her and tell her to get out of her dorm once in a while. I feel like Rowell did this on purpose though, so that we could really root for Cath to break out of her shell. It worked, I rooted for her all the way.
Can we just take a moment to appreciate Levi for a sec? Why can't every guy be like him?!!! He's not the swoon worthy, tall, dark and handsome, mysterious boy that has plagued the world of YA. He's cute, dorkey, and incredibly approachable. Him and Cath, although opposites, were glorious together. Every single interaction between them had my cheeks burning from smiling for so long. He's an extrovert, and she's an introvert. I absolutely adore pairings like this. I also really loved Reagan. She is very blunt and quite a badass. At first, her and Cath mostly ignore each other, despite being roommates. But as the story progresses, their relationship really blossomes and is very fun and entertaining to read about. I thought Wren's story arc was very predictable, (mild spoiler) becoming the twin that sort of loses it and parties too much, as well as her and Cath drifting away from one another and being brought back together near the end of the book.
The plot was mainly just watching Cath come out of her shell throughout her first year of college. A 400 page contemporary is a little bit too long for me, so it did drag in a few places. I thought the family dynamic was very interesting and I loved seeing Cath take care of her father. She very much took charge in the moments of her father's mental elusiveness. I also liked how her problems with her mother were never really resolved within the book. It shows that some relationships may never be salvaged and that's OK. I never really connected with the fanfiction within the book, but I absolutely loved Cath's passion behind it. The ending was a little abrupt and pretty anticlimactic. But to be honest, most contemporaries are like that for me. Overall I really liked this book and will definitely be picking up some more Rainbow Rowell books.