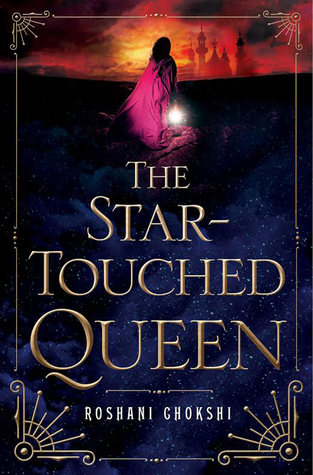 Title: The Star-Touched Queen
Author: Roshani Chokshi
Page Count: 352
Genre: Young Adult Fantasy, Mythology,
Source: I received this book for free from NetGalley and St. Martins Press in exchange for an honest review, this in no way affected my opinion of this book.
Rating: 5 Stars!!!!
Synopsis:
Cursed with a horoscope that promises a marriage of Death and Destruction, sixteen-year-old Maya has only earned the scorn and fear of her father's kingdom. Content to follow more scholarly pursuits, her world is upheaved when her father, the Raja, arranges a wedding of political convenience to quell outside rebellions. But when her wedding takes a fatal turn, Maya becomes the queen of Akaran and wife of Amar. Yet neither roles are what she expected. As Akaran's queen, she finds her voice and power. As Amar's wife, she finds friendship and warmth.

But Akaran has its own secrets - thousands of locked doors, gardens of glass, and a tree that bears memories instead of fruit. Beneath Akaran's magic, Maya begins to suspect her life is in danger. When she ignores Amar's plea for patience, her discoveries put more than new love at risk - it threatens the balance of all realms, human and Otherworldly.

Now, Maya must confront a secret that spans reincarnated lives and fight her way through the dangerous underbelly of the Otherworld if she wants to protect the people she loves.

Inspired by Indian mythology.
REVIEW:
"My star-touched queen,' he said softly, as if he was remembering something long ago. 'I would break the world to give you what you want."
Holy crap, this book. This book is everything I have ever wanted wrapped up in this little bow of breathtaking beauty.
Every single person on planet earth needs to read this book, and every thing ever needs to as well, no matter where you are from, what city, state, country, continent, planet, galaxy or whatever else, you NEED to read this book.
Before you even open the book you are struck with a cover that is immensely beautiful and is as aesthetically pleasing as book covers come. It is, plainly put, the most gorgeous cover I have seen in a long time. It holds a lot of meaning to the story, and it captures the books essence pretty well.
Then you open up the book, and you begin to read and you are welcomed by the most lyrical, beautiful, writing style I have had the pleasure of reading in recent time. You are immediately thrown in to an unforgettable world, and wholly wonderful characters. You will never want to leave (I know I didn't want to at all)
You are greeted by Mayavati, our main protagonist and her words will enamor you. (I promise) She has a horoscope that promises Death and Destruction... and the whole kingdom looks down upon her because of it. She is entirely loveable in her own way. There was so much to her, both on the surface, and underneath on the various levels of her entity. Mayavati's voice is strong, and she knows what she wants, but is almost fearful to fight to get it (at least it felt this way near the beginning) and she is wickedly intelligent, spying on the Raja, and other maniacal things. I loved her story, and boy was it a wild ride. Her story is one of hope, in a sense, and the power she finds through it. She takes her loneliness and transforms it into strength, transcending the society that has constricted her growth.
During this story you meet the harem wives, and learn about Mother Dhina, and she is something I have really tried to understand. She is hard to describe, and I think it's better that I don't attempt to, because she is multi-faceted for sure, and I think it's good for you to watch it play out. She has two daughters (I believe only two) that are quite vicious towards Maya (which was semi-reminiscent of Cinderella in that sense... but vaguely)
Mayavati's sister Gauri is a sweetheart, and Maya watches over her with protection. She tells her stories, various myths, and other things that really connect the reader to these characters and make them feel real. They already felt real, but it lets them relate to us. Also the relationship between Maya and Gauri is one of the strongest stories of love I have read. I wholeheartedly enjoyed their dynamic.
"We could have been stars, you and me. and not the mean ones that blindly spell out the rest of your life, but beautiful constellations hovering far above fate."
I just appreciated the way Maya cared for her, and the selflessness she had when near her.
"No matter where we are, we'll always share the same sky. We can always find each other in the same constellation.... The Solitary Star. That will be our constellation. Legend says it was built by the celestial architect who made the golden city of Lanka."
And when Maya is married off to Amar and becomes the Queen of Akaran, that's when things really get insane. We get to see the Night Bazaar and all of it's intricacies and beauty. There is a scene in particular that I really like that involves trees and fruit, and that's all I will say because I want you to be able to experience it for yourself. It is exquisitely written, as this entire book is, but there is something extra magical about that little scene that I really adored. (It may have something to do with my obsession with trees..)
And Amar is someone so intriguing. From the moment we meet him, he is shrouded in mystery and I LOVE that. I think Roshani employs a very interesting tactic while doing that, leaving us craving more information and by proxy, continuing to read.
"I know your soul. Everything else is an ornament."
This quote is true, and I loved it, and I highlighted it and yeah, I really liked it. (My thoughts are becoming incoherent... oh no! I want to talk about this book and do it justice, as they say.)
Kamala, is a horse that eats flesh that Maya meets at a point in the story, and woah is she wonderful in every way. She oddly reminded me of The Last Unicorn by Peter S Beagle, as well as the butterfly in that story. If you put the two into a boney horse. Also a hungry horse, and super snarky. A lovely snark. Something I thought was interesting was learning that Kamala means 'the lotus'.
"
Sometimes illusion is just as good as the actual thing."
This story was inspired by Indian mythology and its also a retelling of Hades of Persephone mixed in with the Indian Mythology. This world is lush, vivid, well described (like holy hell, I will get to more of that in a second.) mythological story set in an Indian backdrop.
First of all, I don't know if I mentioned this before... this kingdom and the surrounding kingdoms put an immense stress on the importance of horoscopes and following them. This is why Maya is not treated to such a glamorous life in the courts, and rarely sees her father, the Raja, as a result. Horoscopes are their lives, and they follow them strictly.
The world-building is phenomenal in every single way. Roshani definitely vividly explains every mythological thing in this story. (She doesn't flat out explain it either, she appeals to your senses, making you
feel
the world blossoming around you.)
Also, the romance, holy shit... like I LOVED every single moment of it. And I am super picky about the romances that I actually enjoy, but it wasn't *entirely* instant. And it felt so real, something I could truly get behind. I FREAKING ADORED EVERY LITTLE ROMANTIC THING IN THIS BOOK. IT WAS HOPELESSLY ROMANTIC, AND I am truly a romantic person, but usually the romances in YA novels feel forced, unrealistic, or often enough too quick. This was quick but I DID NOT CARE ONE BIT. I LOVED IT ALLLLLLL!
Going back to the mythology of the story, I think Roshani described everything so well, it left me wanting to learn more about the mythology, and read about it, forever because it is so damn intriguing. From the demons, to Airavata the elephant, to everything in between and more. It set my curious heart aflame.
Nothing could please me more than seeing this turned into a graphic novel. Which is why it reminded me of The Last Unicorn because I couldn't stop myself from thinking of it, knowing it would rival that as the most beautifully done graphic novel I have ever read. I can see the beauty now. Somebody needs to get behind me with this, because I am ready. (I don't have any artistic talent when it comes to drawing and stuff of that nature, so I would just love to help and provide some ideas) Combining phenomenal storytelling such as this with equally as enchanting pictures... that would be glorious.
Did I mention the beauty of Roshani's writing already? Yeah... I did... but it's important. I found myself breathless reading some of these passages because the way she weaves word to convey her message is simply unbelievably glamorous and elegant.
Cold hearts do not exist while reading this beauty of a novel, AND a debut at that! Holy moly! This book is phenomenal and I couldn't recommend it higher than I already am trying to.
Consensus: Roshani Chokshi's debut novel
The Star-Touched Queen
is a story of strength and empowerment, and definitely love. It is exquisitely written, and provides a lush story filled with scenery that will quite literally take your breath away. It's filled with a beautiful romance, a ton of wickedly beautiful scenes, including one of a recarnation pool (Super duper interesting!!!) This book is beautiful in every way possible, and nothing I ever say about it will explain its beauty, it's THAT fantastic. This is by far my favorite debut of the year, so far, and have no doubt it will stay there.
I am ecstatic that there will be a companion novel following a certain someone we met in a beautiful tapestry (another wholly beautiful aspect of the novel) There is only one problem I can find with that... I have to wait sooooo long to get it! NO! I need it now! I need it immediately.
P.S As great books do, this book makes me want to write, and improve my writing, and everything involved and work to be as lyrical, and beautiful as Roshani's writing is. Thank you for this book, and everything you write after. :)
**also please note that all quotes were taking from an eARC I received from NetGalley**
Everyone needs to have their eye on this book, I really hope this convinced you... and if it did... you can do the following...
ADD IT ON
Goodreads
PREORDER HERE:
Amazon
Barnes & Noble
The Book Depository
If my review didn't convince you enough...
Karina, who is absolutely wonderful, at
A Reader Under The Sea
wrote a phenomenal review... And there's a giveaway! Check it out! You want this book in your life! Also: You could win The Crowns Game by Evelyn Skye (which is another of my anticipated books of the year!)