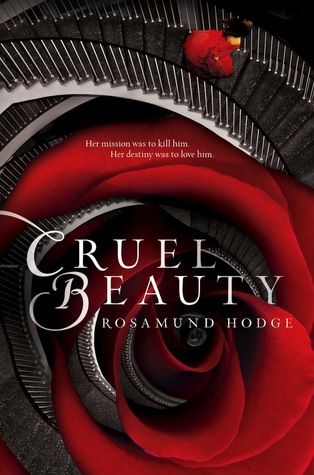 Title: Cruel Beauty
Author: Rosamund Hodge
Genre: Young Adult, Fantasy, Romance, Retellings
Rating: 4 stars out of 5
Goodreads synopsis:
Based on the classic fairy tale Beauty and the Beast, Cruel Beauty is a dazzling love story about our deepest desires and their power to change our destiny.
Since birth, Nyx has been betrothed to the evil ruler of her kingdom-all because of a foolish bargain struck by her father. And since birth, she has been in training to kill him.
With no choice but to fulfill her duty, Nyx resents her family for never trying to save her and hates herself for wanting to escape her fate. Still, on her seventeenth birthday, Nyx abandons everything she's ever known to marry the all-powerful, immortal Ignifex. Her plan? Seduce him, destroy his enchanted castle, and break the nine-hundred-year-old curse he put on her people.
But Ignifex is not at all what Nyx expected. The strangely charming lord beguiles her, and his castle—a shifting maze of magical rooms—enthralls her.
As Nyx searches for a way to free her homeland by uncovering Ignifex's secrets, she finds herself unwillingly drawn to him. Even if she could bring herself to love her sworn enemy, how can she refuse her duty to kill him? With time running out, Nyx must decide what is more important: the future of her kingdom, or the man she was never supposed to love.
Review:
Seductive, addicting, dark, and utterly genius. I really really enjoyed this book. There's just something about these angsty hate/love stories, such as this
beautiful
gem
and The
Wrath and the Dawn, that I
find
delightfully
enthralling
.
The main character, Nyx, is not perfect and never acts likes she is. She knows she's flawed and accepts it. She is so full of hate due to the lack of love from her father, the innocence of her sister, and the situation that she is born into. I loved Nyx so much, she is witty, defiant, and very passionate. She has this burning hatred for her sister, yet at the same time loves her very dearly. Nyx is such a complex character and very real. I absolutely love morally questionable characters and she definitely is one. My favorite part of this book is Nyx and watching her inner struggles and how she plays them out.
I enjoyed Ignifex as well. I found him odd at times and was hesitant about him in the beginning, but he really grew on me. He is very witty and charismatic, and who doesn't love a villain with a sense of humor? He has done some terrible things in his life, and so has Nyx. This is why I think their relationship played out so well. Both of them are flawed and scarred and they never try to fix each other. They lean on each other for support, recognizing and accepting their flaws.
The plot, I found to be near genius. There is a mystery trying to be solved throughout the book and it really puts you on the edge of your seat, making you wonder what will happen next. The ending was a little ambiguous but wrapped up the story well. I absolutely loved the ancient Greek aspects of the book. I didn't know it had any when I picked it up, but I was pleasantly surprised. It really adds to the story and makes the world feel rich with history. I only had a few quarrels with this book, the biggest being the love triangle. I could see how it was needed for the plot but it still annoyed me. One half of it was very underdeveloped and rushed and Nyx was saying she was in love only after a few interaction with one of the love interests. The rest of the book far makes up for this annoyance. Overall, the plot was very strong and everything really tied together in the end.
I had hoped I would enjoy this book but I didn't realize how much I would. Every single character we meet is complex and nuanced. The plot is intriguing and brilliant. And Ignifex and Nyx's romance develops beautifully and will make you swoon. I highly recommend this book for those who love retellings, and those who like a good angsty love story and morally questionable characters.