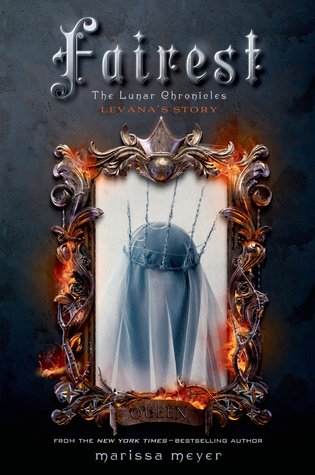 Title: Fairest
Author: Marissa Meyer
Page Count: 220
Genre: Young Adult, Science Fiction, Fantasy, Retelling
Source: Washington County Public Library
Rating: 4.5 Stars!
Synopsis:
In this stunning bridge book between Cress and Winter in the bestselling Lunar Chronicles, Queen Levana's story is finally told.

Mirror, mirror on the wall,
Who is the fairest of them all?

Fans of the Lunar Chronicles know Queen Levana as a ruler who uses her "glamour" to gain power. But long before she crossed paths with Cinder, Scarlet, and Cress, Levana lived a very different story – a story that has never been told . . . until now.

Marissa Meyer spins yet another unforgettable tale about love and war, deceit and death. This extraordinary book includes full-color art and an excerpt from Winter, the next book in the Lunar Chronicles series.
Review: Can we start with the beauty of this cover? ITS SO PRETTY and it holds so much meaning! After you read it, look back and bask in it's beauty even more... like holy crap.
Fairest is set about 10 years before Cinder, and tells the story of Levana, and how she became who she is today, and how she became like she is at the beginning of Cinder... Overall it just gives us a very good outlook on her motives, and her backstory. We finally see everything that happened to her in childhood.
I may be one of the few, but I could not help feeling bad for her... despite the cruelty that she has shown, it makes sense. I understand Levana more than I ever thought I could. It makes her such a better villain, because she obviously shows she had feelings underneath all of her wickedness.
This book is paced really, really well and I flew through it in under 24 hours... it is just that good, and its soooooo short. I was surprised when I got to the end because I think part of me expected it to be longer.
I missed this world so immensely much, because Meyer has a way of writing that keeps us coming back, and it is just so addictive and engaging.
Levana was treated so horribly when she was younger, and seeing that is very important. I think the best place to read this book, as Marissa Meyer also said is in-between Cress and Winter because it'll spoil the earlier books, to some extent, while explaining how Winter fits into everything.
I am very glad this book exists because without it, I wouldn't care about Levana, and I would just want her defeated, for sure, not that I don't expect her to lose, I just think I would be okay if she won... call me crazy.
Marissa Meyer's writing has grown so much since Winter and I can quickly call this one of my favorite series because of it. I will read anything she writes... and I really wish I had bought all of these...they are incredibly worth it.
Something I think needs to be said, is that if you didn't like Cinder.... STICK WITH IT because Meyer' weaves her tales so much more intricately with each and every book.
Meyer is the queen of the retelling, and I am highly anticipating Heartless, and I honestly am so excited for Winter now... it really refueled my love for this series. I need Winter now!!!