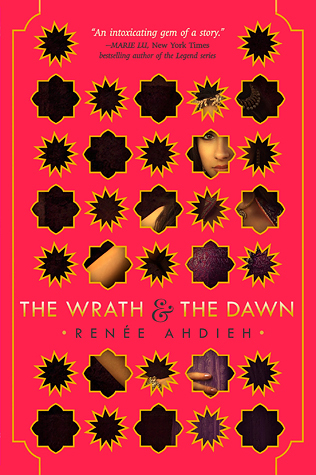 Title: The Wrath & The Dawn
Author: Renee Ahdieh
Page Count: 388
Publication Date: May 12th 2015
Publisher: G.P. Putnam's Sons Books for Young Readers
Genre: Young Adult, Fantasy, Retellings
Source: I borrowed the book from Annelise! :)
Rating: 3.75 Stars
Goodreads
Amazon
The Book Depository
Barnes & Noble
Synopsis:
One Life to One Dawn.

In a land ruled by a murderous boy-king, each dawn brings heartache to a new family. Khalid, the eighteen-year-old Caliph of Khorasan, is a monster. Each night he takes a new bride only to have a silk cord wrapped around her throat come morning. When sixteen-year-old Shahrzad's dearest friend falls victim to Khalid, Shahrzad vows vengeance and volunteers to be his next bride. Shahrzad is determined not only to stay alive, but to end the caliph's reign of terror once and for all.

Night after night, Shahrzad beguiles Khalid, weaving stories that enchant, ensuring her survival, though she knows each dawn could be her last. But something she never expected begins to happen: Khalid is nothing like what she'd imagined him to be. This monster is a boy with a tormented heart. Incredibly, Shahrzad finds herself falling in love. How is this possible? It's an unforgivable betrayal. Still, Shahrzad has come to understand all is not as it seems in this palace of marble and stone. She resolves to uncover whatever secrets lurk and, despite her love, be ready to take Khalid's life as retribution for the many lives he's stolen. Can their love survive this world of stories and secrets?

Inspired by A Thousand and One Nights, The Wrath and the Dawn is a sumptuous and enthralling read from beginning to end.
Review:
"When I was a little girl in Thebes, I remember asking my mother what heaven was. She replied, 'A heart where love dwells.' Of course, I then demanded to know what constituted hell. She looked me straight in the eye and said, 'A heart absent love.'"
The Wrath & The Dawn is very unlike anything I have ever read for a few things, but mainly: the writing style.
The writing style took me at least 30 pages to get into, and before that I was NOT liking the book at all, despite my liking of the premise and how the story was going. I really appreciated that, but the writing was just strange to me. But because Annelise really liked this book, I was determined to continue, and push on and maybe the book would improve...
Good news! It did improve! Something happened that made the writing click in my brain enabling me to continue reading and begin to absorb the words and the storyline as one, and not look at them as separate entities as the writing had made me do as I began.
So, once I got into the writing... I LOVED this book. For the most part. I have a few other quarrels with it... I honestly didn't like the chapters that didn't include Shazi and Tariq... until about the chapter titled The Old Man & The Well (page 140)... and that's when that part of the storyline really clicked for me as well. There were a few other moments I liked before that, but I didn't truly connect to them before that. I thought Shazi's dad and sister were very intriguing characters that I only wish had been explored further, because I thought they offered a lot of potential and could offer some interesting storyline and other such things. (I have a feeling we will get a better feel for them when it comes time for The Rose & The Dagger... [which I looooooooove the title of by the way, it's sort of perfect, now that I have read TW&TD] and I am excited for it. I don't think I can consider it one of my most anticipated reads, but I am looking forward to it.
Anyways, I thought Shazi was headstrong and very committed to her convictions... until she wasn't. But, that's besides the point. I really enjoyed her for the vast majority of the novel, and the choices she made were understandable. The biggest pet peeve of mine was the fact that she uttered something along the lines of I cannot love him. I cannot betray my loved ones. so so so many times. I think I remember it being said at least 5 times throughout the novel, and it got slightly overbearing. I got the point after the third time. That would have been enough. I saw her struggle. One line would have been okay, but entire paragraphs about it... gah. It was annoying, and frankly it made me not like those sections in the book. Again, I will reiterate that I understand the importance of it, but I really want to stress that one line would have had just as much if not more power than the paragraphs.
Also, Shazi is full of angst, and I loved every second of it.
Khalid was intriguing as can be and I loved slowly getting to learn more about him. He offers such potential and although we all already knew everything that was happening to him, as it is explained in the prologue, I still felt when we got to that point Ahdieh wrote the scenes in a way that offered something more that I truly, truly appreciated. I have a lot of things I would LOVE to say about him, but I don't really want to spoil too much but goodness. That boy.
Before I go onto talk about more of the characters I enjoyed/didn't enjoy. I have to comment about that forbidden romance. cause Holy freaking crap. The romance was sensual, beautiful, dare I even say sexy as hell. I actually found myself LOVING it. And that's me, who finds it really hard to connect to those characters romantic feelings, they never feel real enough to me. But goodness, Khalid and Shazi felt so REAL. Swoonworthy, my goodness. And although I had problems with it and my thoughts about it toward the beginning... why in the world would she love somebody like this?... It soon made sense, and I fell in love with the romance.

Okay, now onto my favorite side characters, General (right?) Jalal al-Khory, and our wonderful handmaiden Despina. My god, I loved them. They were the light when I wasn't caring for anyone other than our two beloveds... I always loved them. From the moment that they appeared on the page... Despina was so honest and raw, but not at the same exact time. I couldn't help but admire her strive and her compassion for the better of others before herself. She was just lovely in every moment and I think her character offers so much to this story. As does Jalal, I absolutely adored the scene near the beginning with the archery and everything of the such, it felt very real and I appreciated that being included. I thought it was kind of typical for Shazi to be talented as she was... but I get it. Just little tropes and such that bother me. It almost made her feel special, because in a way, she is. (Which is both a compliment and a criticism at the same time.)

Tariq, oh Tariq. I honestly didn't care for him. I cared for the characters he was with him far more. I feel like he was there, and he offered another reason for Shazi to feel guilty, but he didn't feel much more than that. He bothered me with his 'I'm entitled' stick. It bothered me.

As I write this review, I realize I have written many more criticisms than positives, but that did not diminish my enjoyment of the novel. I really did enjoy the storyline, especially Shazi's storytelling. It felt like I was being told a bedtime story directly before going to bed as a child, and it brought a feeling of nostalgia. I loved it. So much. Thank you Renee Ahdieh, for that. And also for creating this utterly breathtaking and beautiful story.

Although I had my problems with this book, I will definitely pick up the sequel because I am too curious not too. Plus, I need to know what happens with Despina, Jalal, Khalid, and Shazi as well as Shazi's sister, because she intrigues me.

I definitely would recommend this to most people, as long as you are open-minded about a slightly different reading style. Besides, it's actually a really, really good book... I just got annoyed with a few things. More me than anything else.