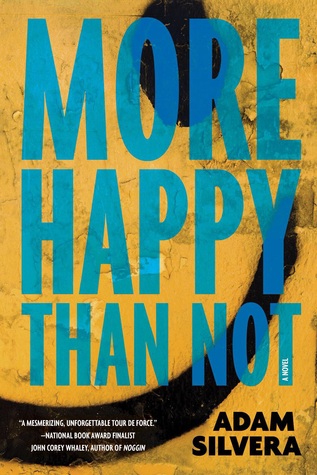 Title: More Happy Than Not
Author: Adam Silvera
Page Count: 293
Genre: Young Adult, Contemporary, Sci-Fi elements
Source: Purchased
Rating: 5 Bazillion Stars
Blurb:
In his twisty, gritty, profoundly moving debut—called "mandatory reading" by the New York Times—Adam Silvera brings to life a charged, dangerous near-future summer in the Bronx.

In the months after his father's suicide, it's been tough for 16-year-old Aaron Soto to find happiness again--but he's still gunning for it. With the support of his girlfriend Genevieve and his overworked mom, he's slowly remembering what that might feel like. But grief and the smile-shaped scar on his wrist prevent him from forgetting completely.

When Genevieve leaves for a couple of weeks, Aaron spends all his time hanging out with this new guy, Thomas. Aaron's crew notices, and they're not exactly thrilled. But Aaron can't deny the happiness Thomas brings or how Thomas makes him feel safe from himself, despite the tensions their friendship is stirring with his girlfriend and friends. Since Aaron can't stay away from Thomas or turn off his newfound feelings for him, he considers turning to the Leteo Institute's revolutionary memory-alteration procedure to straighten himself out, even if it means forgetting who he truly is.

Why does happiness have to be so hard?
Review:
Consensus: Adam Silvera's debut
More Happy Than Not
is not only a story of Aaron Soto and his struggle with his sexuality, it is a story of being happy with yourself, with others, with life. Silvera has told a story that not only lingers in the readers minds for days, it stays with them forever in their hearts. Silvera has told a story of heartbreak, sexuality, love, loss, and has wrapped it in this bow of utter perfection. I don't like calling a book perfect, but this book has changed my life... it has made everything better in some way, it has made an impact. I have felt something because of this book. Damn good job, Silvera, damn good job.
I have been wanting this book since it first came out, it has been a necessity of mine... yet somehow I never bought it. FINALLY after months of it being out, I have purchased, read, and loved every page of Silvera's debut More Happy Than Not.
Adam Silvera has written a story that needs to be read by absolutely everyone in existence. I'm considering making it a requirement to be my friend....
More Happy Than Not is a story of the difficulties that Aaron Soto faces in his life, and his power to overcome them. Aaron's story involves Genevieve, his girlfriend, his crew, new boy Thomas, his mother, his brother Evan and a few other characters and such. The story also involves the Leteo Institute, a place that offers memory-alteration. The story has heartbreak, it has love, it has sadness, it is a dark book.
And none of my explanation is doing this book justice.
This book is a wild ride full of twists and turns and things that seem so obvious when you get to it, but beforehand you had no idea they were coming. This book deals with living in the Bronx in a time where homosexuality wasn't something accepted, and imagine what it could do to someone like Aaron, growing up in a low socio-economic class, having to deal with these crazy kids he grew up with, like Me-Crazy... oh that character.
Aaron Soto is a lovable and flawed main character, as any contemporary main character should be, and any main character in general (not that you have to love the characters actions but that's beside the point...) He goes through so many things and it is heartbreaking. I found myself tearing up so many times throughout the course of this book, and it was really something profound and powerful.
Aaron is seventeen-years old and abnormally tall (not like me, I am only 6'1" but like Adam Silvera who is much taller... like 6'7" or something.) This character feels like Adam Silvera would be... and that is incredibly hilarious, but the humor is used to mask the pain felt deep inside. Obviously I hope this is not Silvera's life, but hey, writing helps us all cope. Anyways, Aaron is beautiful and I adore him to pieces and watching his story play out, it killed me... in all of the best ways and all of the worst of ways.
Thomas, holy shit. He was everything I could ever dream of in a best friend (kind of... I mean I love Aaron and would like him to be my best friend) But he was so perfect for Aaron, and good lord... Everything that happened as their friendship developed was realistic and fantastic and it hurt at the same time.
Genevieve is such a kind and caring person and I would love to see some of her artwork.... like please Adam, gift us with her paintings... please? Anyways, she felt so real, so different, so pained, and that gave her so much depth. I felt for her so much. Who wouldn't? By the end of the novel you understand all of her actions, all of everyone's actions.
Aaron's mother was a beauty to this novel and she felt like my mother. She reminded me of things she would do or say and it was a perfect edition to one of my favorite books I have read in a long long long time. It would have been in my top 3 of last year, for sure. It will probably be in my top 3 for this year. I LOVED this book.
I don't want to talk too much more because I do not want to spoil everything but I will say this: By the time you get to the big reveal... you will cry. I bawled, tears streamed down my face and I had to wipe them away so they didn't spill on the book. It was such an ugly cry too...
I needed this book. You do too. Buy it.
Barnes & Noble
Goodreads
Book Depository
Amazon