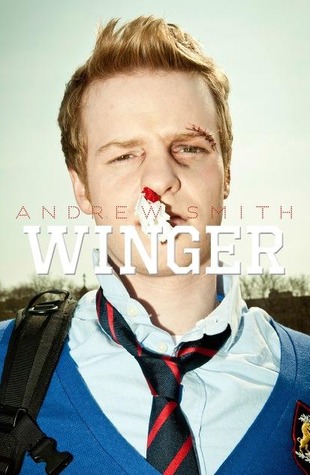 Title: Winger
Author: Andrew Smith
Page Count: 439
Genre: Young Adult Contemporary
Rating: 5/5
Winger hooked me immediately, from the minute Ryan Dean spoke, I was ready for the ride of a lifetime. Little did I know how this ride would affect me.
Winger follows Ryan Dean West, a fourteen year old, who is also a junior in high school and is the starting winger for Pine Mountain's rugby team. PM is a private school for 'troubled youth' and rich kids. Ryan Dean stays in O-Hall (Opportunity Hall) with the delinquents for something he did the school year before.
Ryan Dean has to room with Chas Becker, only the biggest asshole in all of the rugby team.
Everything goes off into a roller coaster ride of mistakes Ryan Dean makes, and the consequences he must face to overcome them.
Ryan Dean is someone who I wouldn't be able to be around for too long. He is perverted, and almost egotistical, but not at the same time. He says how every girl is 'smoking hot' and is in love with his best friend Annie Altman.
Throughout the course of this book he makes mistake after mistake, tarnishing friendships of his own and of others. He flat out ruins a lot of lives. Despite all this, you cannot help but love the perverted sicko. Because he is a great friend, he has his moments as we all do, but he is wonderful.
Ryan Dean cares infinitely more than he will ever let on, and that is one of his greatest strengths in my opinion.
The other characters are wonderful. You have Joey, the captain of the rugby team, and he's gay. Which is mentioned a bazillion times. You love Joey. It's impossible not to love Joey. Joey is the level-headed guy in every situation, speaking up for everyone no matter the circumstances.
Seanie is a demented creepy stalker dude who likes to say perverted things so often that you cannot help but cringe, but his heart is in the right place.
J.P, you cannot help but feeling bad for,
Annie is sweet as can be, and has a heart made of pure gold.
Megan is way more than she ever lets on, and Chas is as well.
All of these characters have multiple layers to them, and it is admirable.
THE STORYLINE. I laughed, I got uncomfortable, I pitied, I laughed some more, I cringed, I cried. I felt so many emotions on this ride, that I want everyone to read this.
It is more than just a typical high school story about finding love, finding yourself, and a coming-of-age story. Everyone needs to read this so they can experience what a good story is going to do, change your life, and your way of thinking.
If I say too much more, I will be spoiling it all... Except THE COMIC STRIPS. Were amazing! They were well executed and hilarious and perfect for Ryan Dean's character!
Winger is a masterpiece, and it is one of my favorite reads of this year. This book killed me in all the best ways. READ IT.