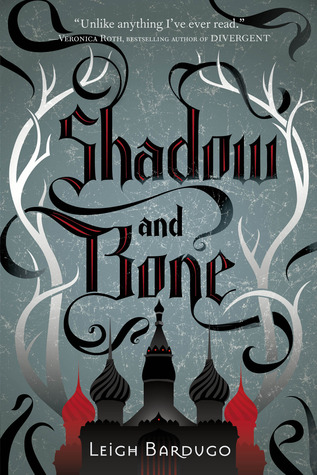 Title: Shadow and Bone
Author: Leigh Bardugo
Page Count:368
Genre: Young Adult, Fantasy
Rating:4.75/5 Stars
Surrounded by enemies, the once-great nation of Ravka has been torn in two by the Shadow Fold, a swath of near impenetrable darkness crawling with monsters who feast on human flesh. Now its fate may rest on the shoulders of one lonely refugee.
Alina Starkov has never been good at anything. But when her regiment is attacked on the Fold and her best friend is brutally injured, Alina reveals a dormant power that saves his life—a power that could be the key to setting her war-ravaged country free. Wrenched from everything she knows, Alina is whisked away to the royal court to be trained as a member of the Grisha, the magical elite led by the mysterious Darkling.
Yet nothing in this lavish world is what it seems. With darkness looming and an entire kingdom depending on her untamed power, Alina will have to confront the secrets of the Grisha . . . and the secrets of her heart.
****MINOR SPOILERS AHEAD****MINOR BUT STILL SPOILERS****I"M SORRY****
Thoughts and Review: (Because I like to write this as I read the book to capture my thoughts as they happen) I have been so excited for this book since I won it in a giveaway a couple months ago. I was so busy with other things, that I never picked it up. Immediately after starting it, I was angry with myself for putting it off for so long.
The world building is so complex and I already know that there is so much to learn about this society, The Grisha, The Darkling, and everything in-between. This book is so exciting, and that's only the first chapter!
As I continue to read this, I am continually intrigued with the world. It's been a long time since a book has been so interesting, with so many complexities and intricacies throughout. Bardugo takes these characters and these powers and all of these other characteristics and qualities and blends them together to create the Grishaverse.
Alina Starkov, our main character, is already a bad-ass female heroine who I know I am going to grow to love infinitely because she is strong, yet she has her weaknesses. I love how she crushes on Mal, and how it is portrayed in the beginning of the book. It is super realistic and cute.
Instantly this book is action packed and a wild roller-coaster ride that you never want to get off from. Seriously, this is one of those books that you get hooked on. The darkness inside is already looming and gathering to become an incredibly dark read, If what I see happening in this book, is anything close to what actually happens, I am going to be incredibly happy.
Dark books are my favorite, I love how authors can think so deep such as creating characters that are believable, and evil, or cruel,or whatever other dark quality they possess.
I have heard that the books only get darker from here and my golly, yes, So excited.

Genya is a very kind soul so far, and I sense tragic happenings between her and the king. The way Bardugo mentions it through rumors scares me, because I pray that it is not true. I am intrigued by Zoya as she could be bitchy and she could change her ways; only time will tell.

The Apparat creeps me out, and sends chills up my spine. Throughout the story he has continued to give me chills. I have a really bad feeling about him.

the Darkling is someone I want to believe with everything he says, but I know that it's not possible. He scares me, but in a good way. I like his character a lot, it is very strong.

Baghra is so interesting and intriguing and I hope I see more of her later in the storyline.

Mal, when he returns to the story, saddens me, It hurts me, the pain is palpable. I hope that will change later.

I am rooting for Alina. I love her. She has her moments, but she is a very likable character despite the faults. The Sun Summoner thing is very interesting and I like it.

This book never ceases to be fast-paced. It moves along quite nicely. I'm loving the storyline.

After finishing it: I am in love, and totally rooting for Alina and Mal. I love them to pieces. I am hoping to see Baghra in the future, and Genya as well, although I am not sure if they are coming soon. Only time will tell.

Basically, I loved every minute of this book, and now I see what all the hype and the raving was about. I agree wholeheartedly, that this book deserves the hype it has been given. Leigh Bardugo is going to quickly become one of my favorite authors.

Now I am itching to buy Siege and Storm!!! I need book two!