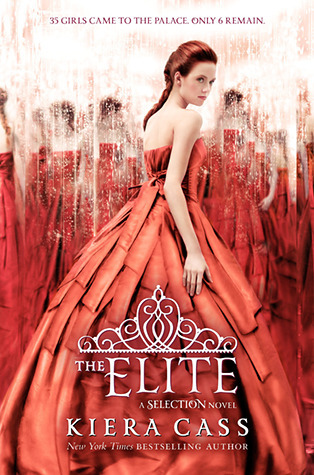 Title: The Elite
Author: Kiera Cass
Page Count: 336
Genre: Young Adult, Dystopian Romance
Rating: 3.75/5
After finishing the Selection, I immediately dived into The Elite, excited and ready for more after not being disappointed with the first one. These books are so fast-paced and such quick reads that I can finish them all in a day each easily.
As it began, I instantly saw how this book was going to be different than the first, in many ways. I already am enjoying the less of Aspen we see, as he is not my cup of tea.
I love Lucy (hah I'm funny) Seriously though. I love the depth of her character and how she has a storyline that is tragic, and it makes us love her more.
America can be super annoying. Super duper annoying. She is indecisive.
I like America's Dad though, and hope he stays safe. As with May, as I love her as well.
Only time will tell.
I'm writing this about 3/4 of the way into the book.
The military and government of this book and mystery behind it, is actually what intrigues me. It gives me more to look forward to than just whether America chooses Maxon and Maxon chooses her as well. I mean, c'mon. I'm pretty positive I know what happens, but that is okay.
I admire a lot of these characters more than I ever thought I would. I'm kinda glad that I had low expectations for these books because I like them a lot more because of that.
America has her moments, as does Maxon, and Aspen alike. The only characters I love wholeheartedly are Lucy and May.
I'm ready for Celeste to go away already, there has been no resolution of her character for me, and by this point it is to late to do anything to save her in my eyes.
I like the Queen.
I love the interactions between Italy and America. I think it adds a whole layer that wasn't there before.
The popularity ratings are very interesting, I thought that was clever.
I love the Philanthropy Projects and how that scene turned out. It really gave us a deeper understanding of the relationship between Maxon and his father.
Gregory's Diaries are one of the highlights of this book, and it made me like it so much more.
All in all, the whole concept with the rebels and fear they all must live in makes up for the annoying choices America makes, and the frustrating qualities of Maxon, and my inability to care for Aspen more than just a person I wish well. I obviously want Maxon and America to end up together. I see that happening, I hope at least.
Although I think the ideas and execution were better in The Elite, I think the Selection had less annoying main characters. They became more and more annoying in The Elite. I'm hoping for change in The One.
Lets Go!
Thank you all for taking the time to read this!
- Cody :)