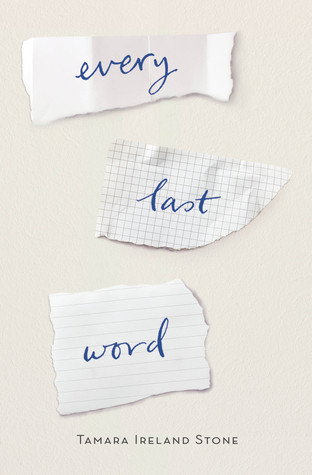 Title: Every Last Word
Author: Tamara Ireland Stone
Page Count: 368
Genre: Young Adult Contemporary, OCD,
Rating: 4.25 Stars
Source: My friend Elizabeth :)
Publisher: Disney Hyperion
Buy Links:
Goodreads
IndieBound
Amazon
Barnes & Noble
Synopsis:
If you could read my mind, you wouldn't be smiling.

Samantha McAllister looks just like the rest of the popular girls in her junior class. But hidden beneath the straightened hair and expertly applied makeup is a secret that her friends would never understand: Sam has Purely-Obsessional OCD and is consumed by a stream of dark thoughts and worries that she can't turn off.

Second-guessing every move, thought, and word makes daily life a struggle, and it doesn't help that her lifelong friends will turn toxic at the first sign of a wrong outfit, wrong lunch, or wrong crush. Yet Sam knows she'd be truly crazy to leave the protection of the most popular girls in school. So when Sam meets Caroline, she has to keep her new friend with a refreshing sense of humor and no style a secret, right up there with Sam's weekly visits to her psychiatrist.

Caroline introduces Sam to Poet's Corner, a hidden room and a tight-knit group of misfits who have been ignored by the school at large. Sam is drawn to them immediately, especially a guitar-playing guy with a talent for verse, and starts to discover a whole new side of herself. Slowly, she begins to feel more "normal" than she ever has as part of the popular crowd . . . until she finds a new reason to question her sanity and all she holds dear.
Initial thoughts:
Oh my god. love this book. so damn much. words cannot express. left me speechless. everyone must read. every last word. this damn book. you will love. I assure you.
Full Review
:
Question: How do I begin talking about a book that moved me as much as this book did?
Answer: It will be difficult.
Question: So, Cody... what was it about this book that made you love it so much?
Answer: Well, this is going to be a long winded answer. Initially, I was only intrigued in the book because it features a main character that lives with OCD, and I was interested to see how she coped with the disorder. As it continued my emotions intertwined with Sam's. So much so that I had to set the book down multiple times because I just couldn't handle myself.
This book is a wholly emotional depiction of a very serious disorder. And Tamara handled it with such care and caution, in order to really show a real story that not only felt real, but screamed real.
I loved this book because of how Tamara not only incorporated how Sam dealt with her OCD, but also the poetry incorporated throughout. It really made this book shine.
I spent a large amount of the novel, a little frustrated at something that I predicted in the novel. The romance can be seen from a mile away... and although I grew to like it... I was very much worried that it would end up being a "romanticizing mental illness" situation, and that is my least favorite thing in novels. Every once in awhile, if the characters have romantic interests but it doesn't magically fix their issues, then I am okay with it. This book is the case. (That jumble of thoughts was little confusing, but I hope you catch my drift here)
Anyways, I did like the romance, once it got into it. I did think it was a little quick, but I've become numb to those kind of things now. Besides... that is not even remotely the main part of the book.
The book follows Samantha McAllister and how she navigates high school with OCD and hiding it from her "best friends" who are dubbed the "Crazy Eights". They are basically Mean Girls to the extreme, and while I strongly disliked them, I never hated any of them... (okay, maybe one of them... I'm looking at you Kaitlyn. God, she bothered me to no end)
Anyways, Sam meets this girl named Caroline and gets introduced to Poet's Corner, and in an instant, her life is changed. She begins writing poetry, with Caroline's help. The nuances of this book are absolutely phenomenal.
I wasn't in love love with this book until about 75% in when we get to the big twist... AHHH. I FREAKED OUT. IT WAS AMAZING. IT CHANGED EVERYTHING FOR ME. Like, I was enjoying it. And the writing is phenomenal. But their was something missing to really allow it to stand out from a YA line up in regards to about mental illnesses. SO THIS TWIST REALLY DID EVERYTHING I WANTED IT TO.
Everything about said twist made sense and it made me want to go back and reread the entire book to see the very subtle foreshadowing.
Sue was a phenomenal character and the scenes between her and Sam read the most realistic and you could definitely tell that Stone put so much effort into the planning and writing of this book. I wholeheartedly appreciate everything that made this book what it is.
And what it is, is absolutely breathtaking.
Also, I did a thing with the titles. Looked at them, wrote them all down in order to see if they made a poem...and in a very abstract way... they did. But, I'm planning on putting them in my own order soon, and will be showing y'all that soon!
Overall:
Tamara Ireland Stone's novel
Every Last Word
was an honest depiction of OCD and how it can affect a person. I loved the familial dynamics, I loved her interactions with her psychologist/therapist. I loved the message behind this book. That's why I love this book. Because it really conveys a powerful and wholly wonderful message that we will all be better because of. Highly recommend. I will be buying myself my own copy ASAP.