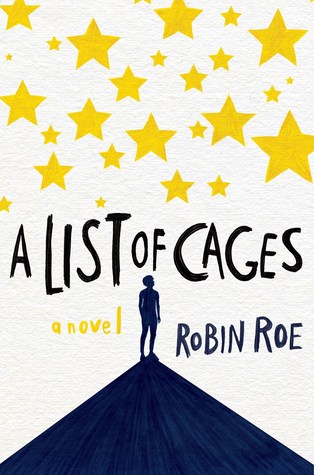 Title: A List of Cages
Author: Robin Roe
Release Date: January 10th, 2017
Publisher: Disney-Hyperion
Page Count: 320
Rating: Utterly heartbreaking, yet somehow hopeful. (4 stars, if I had to use stars)
Source: Netgalley :)
Synopsis: When Adam Blake lands the best elective ever in his senior year, serving as an aide to the school psychologist, he thinks he's got it made. Sure, it means a lot of sitting around, which isn't easy for a guy with ADHD, but he can't complain, since he gets to spend the period texting all his friends. Then the doctor asks him to track down the troubled freshman who keeps dodging her, and Adam discovers that the boy is Julian--the foster brother he hasn't seen in five years.

Adam is ecstatic to be reunited. At first, Julian seems like the boy he once knew. He's still kind hearted. He still writes stories and loves picture books meant for little kids. But as they spend more time together, Adam realizes that Julian is keeping secrets, like where he hides during the middle of the day, and what's really going on inside his house. Adam is determined to help him, but his involvement could cost both boys their lives.
Review:
"Hate ricochets, but kindness does too."
I read this book late at night before bed, and honestly believe this was the best time for me to read this novel. Because it allowed me to be completely immersed in the story, in the characters, in the everything about this book.
This book pulled at all of my heart strings, and held them taut throughout most of the novel. Seriously. I was anxious about the outcome of everything that was going on. I mostly went into this book blind, which I think is also a good way to go into it. The synopsis isn't spoilery, but it does make it easier to figure out what's going on.
Adam and Julian's voices were just wrenching and raw. I loved the childlike quality in Julian's voice, and how he sounded younger (because he was). And Adam's level-headedness was very much appreciated and offered a nice contrast between the characters voices and outlook on life. I really enjoyed being in both Julian and Adam's heads but think I preferred Julian's ever so slightly. This is mostly because Julian's voice was more compelling and I just cared about him more.

This book takes you on a emotional ride through dark experiences but leaves you in a hopeful meadow. Dealing with difficult things, A LIST OF CAGES really shows the importance of friendship, of love, of hope.

It shows how Adam deals with ADHD, but doesn't delve much into it. It definitely talks about it, but it isn't the central focus so it is slightly glossed over. Which, I am actually okay with, because this story is more than about Adam's mental disorder. This story is very much about Julian and his life and how that impacts everyone around him

But it's also completely about Adam and his impact on everyone around him.
This book is really difficult to read, and that has nothing to do with the writing (which is simply really good and easy to read), and everything to do with the subject matter. This book deals with abuse, and it's powerful and killer in it's unapologetic way it deals with this subject, and does so with such careful writing.

This is a book about impacts. how the little things can change someone's life forever.
I loved Adam and Julian's brotherly relationship. It was so strong and so apparent. The boys clearly cared about each other immensely.
I also love how Roe dealt with the themes of friendship, with Adam and his friends and how they grow to love Julian just as Adam does. I especially loved Charlie, who really grew throughout the novel. I also feel like Adam's withdrawal from friends at different points felt entirely realistic, and I just adore the message this book sends.

Utterly hopeful, Robin Roe's debut sings with deep undertones, important messages, and veryintentive writing making this debut shine out amongst the rest.

Highly recommend.