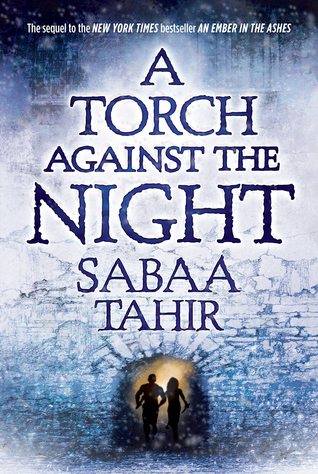 This week I have chosen A Torch Against The Night by Sabaa Tahir!
This is the sequel to the beautiful An Ember In The Ashes <3
I have actually already read this book in it's ARC form but I cannot wait to get a hardcover and hold it, and cherish it's beauty.
To get you pumped with this release on AUGUST 30TH Here is the Goodreads synopsis:
A Torch Against the Night takes readers into the heart of the Empire as Laia and Elias fight their way north to liberate Laia's brother from the horrors of Kauf Prison. Hunted by Empire soldiers, manipulated by the Commandant, and haunted by their pasts, Laia and Elias must outfox their enemies and confront the treacherousness of their own hearts.

In the city of Serra, Helene Aquilla finds herself bound to the will of the Empire's twisted new leader, Marcus. When her loyalty is questioned, Helene finds herself taking on a mission to prove herself—a mission that might destroy her, instead.
Highlights of this novel include:
1. Helene's POV
2. Quotable as hell.
3. Lyrical and poetic writing.
4. Growth in EVERY character.

6. Introduction of new characters.

7. THE FOREST.
5. BLOOD. HEARTBREAK. SO MUCH.