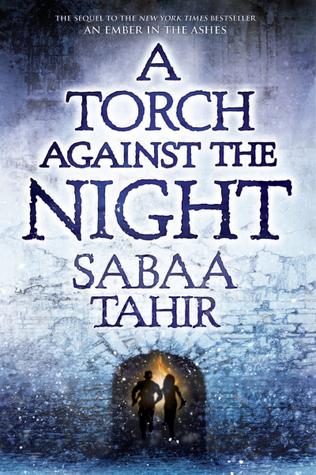 Title: A Torch Against The Night (EMBER Book #2)
Author: Sabaa Tahir
Page Count:
Genre: Young Adult Fantasy
Rating: 4 Stars
Source:
@rstolle
who is the best <3
Links:
Goodreads
Amazon
Barnes & Noble
The Book Depository
IndieBound
Synopsis:
A Torch Against the Night takes readers into the heart of the Empire as Laia and Elias fight their way north to liberate Laia's brother from the horrors of Kauf Prison. Hunted by Empire soldiers, manipulated by the Commandant, and haunted by their pasts, Laia and Elias must outfox their enemies and confront the treacherousness of their own hearts.

In the city of Serra, Helene Aquilla finds herself bound to the will of the Empire's twisted new leader, Marcus. When her loyalty is questioned, Helene finds herself taking on a mission to prove herself—a mission that might destroy her, instead.
Review:
Sabaa Tahir's writing is suspenseful as can be in this action-packed sequel to the blockbuster hit 'An Ember In The Ashes' which was one of my favorite books of 2015. Top 3 for sure. I loved that book with all of my heart and this was one of my most anticipated novels of 2016...
"Don't lock yourself away from those who care about you because you think you'll hurt them or - or they'll hurt you. What point is there in being human if you don't let yourself feel anything?"
And it for sure delivered. The writing was even better, the characters were fleshed out even more so, and the plot was even more suspenseful, if you can believe it. Practically everything about this book improved upon the first book. Yet for some reason I still find myself enjoying the first one more...
Was it because I didn't do a reread before I picked this up? Highly likely. I'm going to assume this is why and if I reread both, that I'll end up enjoying TORCH more than I already did. I mean I loved the addition of the new characters and the new mysteries this book held. I love the growth each and every character had and I LOVED watching it all play out.
I think the addition of Helene's POV not only added a different outlook on everything it was a very necessary change from EMBER. Helene offered a whole new perspective and watching her inner turmoil/monologue was heartbreaking and raw and so very real. And her perspective was by far the highlight of this sequel.
This book doesn't cease to amaze me, it continually moves at a rapid speed and doesn't let up for a moment. I was on the edge of my seat the entire time I was reading this book and I cannot say how successful this will be. TORCH is darker than EMBER, it is more suspenseful. It has better writing. TORCH is everything that was missing with EMBER. Sabaa took the criticisms one could have with EMBER and flipped them on their head and improved upon the flaws.
Sabaa's writing is just purely addicting.
"the stars are so different when you're free"
"I know what it is to lose those you love. I
taught myself not to feel anything at all."
There are so many beautiful exchanges between the characters. We get to see Elias at his most vulnerable, we get to see Laia at hers, and Helene with hers as well. We get to see the Commadant be as badass and dangerous as can be, and we get to see bloodthirsty Marcus and his tyranny over the Empire.
I love the addition of the Forest. I love seeing Helene grow as Blood Shrike and make some of the most difficult decisions anyone could ever have to make. Helene broke my heart and watching her battle her own mind over her love for the most important people in her life
tore me apart. I felt like a machete was cutting me open and sawing out my intestines slowly as I bled... but never would I die.
It was gutwrenching, to say the least.
I loved Avitas Harper and I cannot wait to see more of him. (He may very well be one of my favorite characters.) I liked seeing Kauf and how that truly played into the story. The characters within hold promise. The Warden was frightening. The darkness was powerful. The Efrit, monstorous. The monsters richly imagined.. This book was haunting in the best of ways.
Laia was a lot stronger in this book and it made me very happy to see her grow.
I will always love Helene more than any other character because of who she is and what she stands for and the fact that she is actually more selfless than Elias and Laia combined. (Well, Elias is pretty selfless.) I just adore Helene.
I loved Afya and meeting Elias' mother. I felt the sequence in Nor (is that what it's called?) was extremely well written and a highlight.
I loved the scene with Laia in the marketplace and thought that was brilliant.
Helene's interactions with her family clenched my heart in it's boney fingers.
And while I love almost everything about this book... I don't like the ending very much. It is eerily similar to the first ending.... Yet it doesn't hold the amount of suspense and fear that the first one does. It feels like the series could end here and I would very much hate that. I'm not ready to say goodbye... yet it could be with the way it ended. I need to know more, and the ending just wasn't enough "pop" for me.
Consensus:
A Torch Against The Night
is a brilliant novel that improves upon the flaws in the first book, but also has flaws of it's own. The characters are dynamic, realistic, and heartbreaking and the plot moves at a rapid speed, yet their was a bit of disconnect in the ending chapters that left me feeling just slightly unsatisfied. I still adored this book, and think it may have been the mood I was in while finishing the book. I highly recommend and believe if you even liked EMBER you will LOVE TORCH. Haunting, elegant, and brilliant writing allow Tahir's characters to shine brightly in the midst of a dark world and terrifying circumstances.