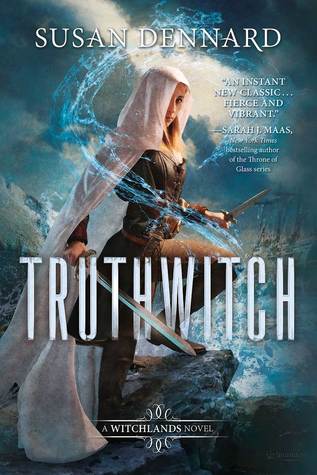 Title: Truthwitch
Author: Susan Dennard
Page Count: 416
Genre: Young Adult Fantasy
Rating: 5 Stars!!!!!
Blurb:
On a continent ruled by three empires, some are born with a "witchery," a magical skill that sets them apart from others.

In the Witchlands, there are almost as many types of magic as there are ways to get in trouble—as two desperate young women know all too well.

Safiya is a Truthwitch, able to discern truth from lie. It's a powerful magic that many would kill to have on their side, especially amongst the nobility to which Safi was born. So Safi must keep her gift hidden, lest she be used as a pawn in the struggle between empires.

Iseult, a Threadwitch, can see the invisible ties that bind and entangle the lives around her—but she cannot see the bonds that touch her own heart. Her unlikely friendship with Safi has taken her from life as an outcast into one of reckless adventure, where she is a cool, wary balance to Safi's hotheaded impulsiveness.

Safi and Iseult just want to be free to live their own lives, but war is coming to the Witchlands. With the help of the cunning Prince Merik (a Windwitch and ship's captain) and the hindrance of a Bloodwitch bent on revenge, the friends must fight emperors, princes, and mercenaries alike, who will stop at nothing to get their hands on a Truthwitch.
Review:
"Because those who win wars are those who write history."
Consensus: Though not without it's flaws, Truthwitch, is a story that exemplifies loyalty, true friendship, and overall badassery. Dennard has created a rich world with vivid characters that have you flipping the pages at a rapid pace, needing to know the outcome. I flew through this book, and fell in love with the character and have no doubt that you will too. I think those that like Throne of Glass will enjoy this novel.
How can I even begin with my thoughts about this book? I am completely aware that this book has it's flaws but to be honest.... I don't care. This book is even better because it's not perfect. I love that it's not, because if it was, The next book would have to be just as good, and I don't want to be disappointed (not that I think I will because this series is going to go so many places.
I'm going to begin this review by breaking it down into different sections:
Characters: One of my favourite parts of the novel. This novel follows Safiya and Iseult, Truthwitch and Thhreadwitch, respectively. Safi is naïve, and is prone to some stupid decisions, but honestly she felt very real to me, I very much enjoyed some of her thoughts. She could become overbearing and annoying. and she had her "specialness" from the beginning, but again, it really didn't bother me.
Iseult: Is DEFINITELY in my top 3 characters for this novel, because she is badass as hell, she is loyal as all hell, she is perfect as all hell. (Not really perfect, but I love her) She is intelligent and intriguing and everything that happens to her is as result of protecting Safi, and for others, and she might be doing some of it for selfish reasons, but again, that makes her more realistic. I LOVED the interaction between her and the shadow. It gives a lot that could happen in the sequel that I am super excited for. Iseult has this vibe about her where she could become evil in time, she is dark, in her own way. Everything Susan Dennard did with her, intrigues me and excites me as we patiently wait for the sequel.
Aeduan: Blood Monk? Bloodwitch? Sign me up, I love him. He is such a rich character and I think he has a lot to offer the storyline, and his background in of itself is interesting an adds a lot to the story. His passages may have been a little weak at times, but it picked up near the end to where I am more excited about where his storyline goes that about Safi... which is weird. I mean, I normally like other characters than the protagonist best, but could he be a protagonist in the future? Who knows?
Merik: Oh my dear Prince Merik, how I love you as well. (Is there any character here that I don't love?) He is willing to do ANYTHING for his country, Nubrevna, and I respect that so much, everything that he embodies I am envious of, I strive to do things selflessly, for the good of all, and Merik exemplifies that quality. Other people talked about instalove between him and another character and to be honest, I didn't see it, or particularly care.
Evrane: Important as all hell and I love her, and she is one of my favorites because of her wisdom. I would love something from inside her head eventually.
Other Characters: Ryber offers a lot in this next book and Kullen and so many more made me so so so happy.
Plot: I touched a little on it... but it flowed really nicely, it was super fast paced the majority of the time which made it difficult when Aeduan was introduced because it slowed things down just a little bit. Overall, the plot held me intrigued and piqued my interest. Though I did predict a couple things that were going to happen.
Worldbuilding: I struggled understanding the world at times, but halfway through I definitely feel I have a good grasp now. Dennard does a good job of explaining how things work in the world, the war that had happened, and the way contracts work in relation to their witcheries. I truly appreciated everything.
One of my favourite parts was getting to see Iseult's experiences seeing Threads, it made for interesting passages, and color associations with emotions that I may not have paired together but I enjoyed how she did it!
FAVORITE SCENE: I have a few favorite scenes but above all while reading this book the Sea Shanty section really stood out to me. It connected all the sailors together, and gave a great sense of relationships and comfortability with each other. I just thought it was well written and seemed nice.
I also liked the scene between Iseult and Evrane, it was sweet and endearing.
Iseult's dreams also intrigued me so intensely. The Puppeteer will be interesting in these upcoming novels.
I just love this book, and I want everyone to read it and understand my love!!!