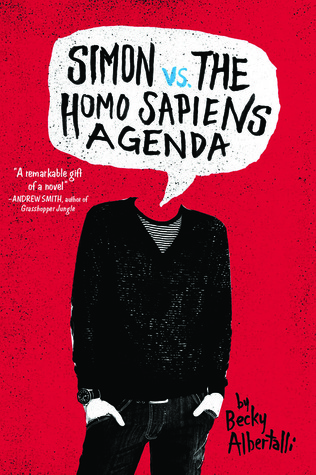 Title: Simon vs The Homo Sapiens Agenda
Author: Becky Albertalli
Page Count: 303
Genre: Young Adult, Contemporary, LGBTQ
Rating: 5/5 Stars! (Or maybe I should say Oreos? ;) )
Blurb:
Sixteen-year-old and not-so-openly gay Simon Spier prefers to save his drama for the school musical. But when an email falls into the wrong hands, his secret is at risk of being thrust into the spotlight. Now Simon is actually being blackmailed: if he doesn't play wingman for class clown Martin, his sexual identity will become everyone's business. Worse, the privacy of Blue, the pen name of the boy he's been emailing, will be compromised.

With some messy dynamics emerging in his once tight-knit group of friends, and his email correspondence with Blue growing more flirtatious every day, Simon's junior year has suddenly gotten all kinds of complicated. Now, change-averse Simon has to find a way to step out of his comfort zone before he's pushed out—without alienating his friends, compromising himself, or fumbling a shot at happiness with the most confusing, adorable guy he's never met.
AHHHHH
Simon vs The Homo Sapiens Agenda is quite possibly my favorite book I read in 2015 it was adorable, and cute, and heartbreaking in a strange sort of way.

I LOVED Simon. Adored him. omg. he is hands down one of the most realistic characters I have read in the looooonngggeeeeessssttt times. and I love him so immensely. He will forever hold a special place in my heart.

This book deals with many aspects of LGBTQ life that I feel is extremely important that everyone is aware of and understands because without understanding, there is no way to fix issues that are ever present in todays society (and slowly lessening, but it still needs to be discussed)

This book in general, is just so beautiful, and it surprised me in the best ways... I didn't predict everything as I often do, and I didn't hate anyone's character.

in fact Abby made me smile, Simon's descriptions of Cal made me so happy, Nick was overall simple and good. Leah, reminded me of friends in my life, and the connections were great.

the relatability of this book is unlike anything I have ever read... I have felt so many of these things, been in a few of these situations, and it just feels like real life.

Becky Albertalli is a phenomenal writer, and I will read anything she writes because if it is anything close to as amazing as this novel was, I am sure to love it. <3

so thankful I finally bought this, and read it completing it just 50 minutes before the new year.

NOW I WANT OREOS!!!!!

Thank you, Becky... for this beautiful novel.

OH AND I totally smiled cheekily, throughout the last 15% of the novel. like seriously, its that adorable.
This book will hold a special place in my heart as the new year begins :)