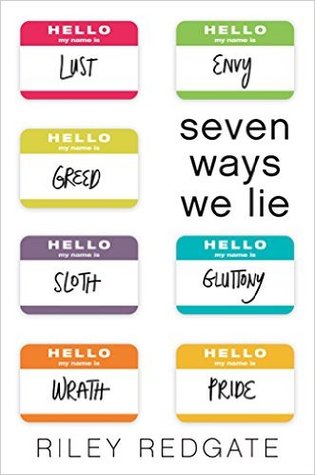 Title: Seven Ways We Lie
Author: Riley Redgate
Page Count: 352
Genre: Young Adult, Contemporary
Rating: 5 Stars!!
Blurb:
Paloma High School is ordinary by anyone's standards. It's got the same cliques, the same prejudices, the same suspect cafeteria food. And like every high school, every student has something to hide—whether it's Kat, the thespian who conceals her trust issues onstage; or Valentine, the neurotic genius who's planted the seed of a school scandal.

When that scandal bubbles over, and rumors of a teacher-student affair surface, everyone starts hunting for someone to blame. For the unlikely allies at the heart of it all, the collision of their seven ordinary-seeming lives results in extraordinary change.
Review: "I think I'm beginning to understand how hearts fit together. Not like diseased carnations that lean against their crutches. Not like vines that twine tight, throttling their hosts. But like two trees [...] Hearts fit together like hands. Not by necessity. By choice."
Consensus: The ability of Riley Redgate to successfully develop these seven characters with unique voices truly attests to her capabilities as a writer. Being her debut novel, Seven Ways We Lie, allows us to experience rich characters and an intriguing storyline, and writing that allows us a glimpse into the beauty she will continually give us. Being this good as a debut author is INCREDIBLE. I cannot wait for more Riley Redgate novels.
Beginning my thoughts on books I loved as much as this one is always difficult... But I will begin with the characters as this is what the book is focused on: the seven characters we grow to care about in the end.
Kat Scott: Thespian girl, who frequently gets angry, and has secluded herself from her sister, and her family. She is headstrong, and intense, and reading from her POV made me angry, and allowed me to release some pent up anger, and realize the pettiness of such anger at times. I truly appreciated her growth throughout the novel.
Juniper Kipling: The other characters call her the "Golden Girl" She is popular, and practically perfect... But she holds secrets of her own, as all of our characters do. Her parents have almost stopped caring what she does, she doesn't get in trouble... This bothers her so she starts rebelling in many ways... She is intriguing and her chapters made me incredibly happy... and not for what was contained in them... but because of the way it reads. Juni's chapters read like poetry... they are incredibly poetic, and I enjoyed them immensely. They definitely stood out in relation to the other characters because of this drastic shift in writing style... This may be showing her intelligence. I enjoyed her storyline.
Olivia Scott: This girl, it is known from the beginning that everyone sees her as a slut, and she acts as if she doesn't care about it... Clearly she does... Boys think that they can get in her pants if they are kind to her... but this is not true... Olivia is so much more than it seems on the surface. She is one of the most compassionate people in this entire novel, and that is masked over by her reputation. Her and her sister aren't really speaking, but it is apparent that she cares... Her family's story in general was great to read, and it had a lot of depth which I enjoyed.
Valentine Simmons: Oh, our wonderful recluse, who also is the one who sparked the conspiracy of the teacher-student relationship. He doesn't have friends, and he doesn't have crushes, and he almost seems to not have feelings... but my goodness is he one of my favourite characters in this novel... He really drives this story, and I am trying to avoid spoilers... I love him. That is all.
Lucas McCallum: Good lord, popular boy, dated Claire Lombardi, smiles to hide his fears, oh... he also harbors a secret: He's pansexual. Here we start with him... oh he's also a drug dealer. Because we have to keep things mildly interesting... Ha. His storyline weaves its way into the others so well, and it is great to see his growth and development into loving himself, and taking pride in that.
Claire Lombardi: Queen of comparing herself to others. She is best friends with Juniper and Olivia, and is consistently jealous of them. She continuously talks of her "lesser" qualities, and wonders why Lucas McCallum ended their relationship. She tries her best to be involved, running the Student Elections, the Young Environmentalists and many other things she really doesn't have time for. She was annoying as all hell, but in the end, it makes sense, I understand it, and I forgive her.
Matt Jackson: Stoner boy who smokes to escape from the world. He has a three-year-old younger brother named Russell who is a sweetheart. His mother seems rather strict, and his parents often fight, as do the parents of many other characters it seems. He has the biggest crush on Olivia Scott, and he buys his drugs from Lucas. His character grows in ways that I truly enjoyed.
Plotline: The plot is completely driven by the characters and I really enjoyed where it went, and everything was important, in my opinion. There were a lot of defining moments, such as an English project on Dante's Inferno. This book was just beautiful, and enjoyable, and unique and great.

OH. THE DIVERSITY. OMG. YES. This book was diverse. Sure, we have some incredibly white girls, but we have a pansexual, and other attractions (not going to say which... you're gonna have to read it to find out...)

PLEASE READ THIS BOOK WHEN IT ARRIVES IN MARCH.