Welcome to Roecker Reviews
The 5th Stop on this wonderful Blog Tour!
And I'm super excited to be a part of this...
and here I am to tell you about Stalking Jack The Ripper and why I am SO excited for this novel!!!
First off, THE BEAUTIFUL COVER!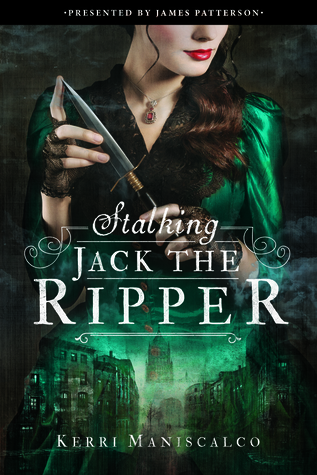 Although I think it would be prettier if you cut off the presented by James Patterson banner across the top... I still the cover is GORGEOUS!!!
AND SYNOPSIS TIME:
Seventeen-year-old Audrey Rose Wadsworth was born a lord's daughter, with a life of wealth and privilege stretched out before her. But between the social teas and silk dress fittings, she leads a forbidden secret life.
Against her stern father's wishes and society's expectations, Audrey often slips away to her uncle's laboratory to study the gruesome practice of forensic medicine. When her work on a string of savagely killed corpses drags Audrey into the investigation of a serial murderer, her search for answers brings her close to her own sheltered world.
The story's shocking twists and turns, augmented with real, sinister period photos, will make this dazzling debut from author Kerri Maniscalco impossible to forget.
While this synopsis is short, it dazzles and excites while enticing readers into this world! I'm so damn excited to meet Audrey Rose and the rest of the characters in SJTR because from everything I've heard... they are unforgettable!
Here are the many reasons I am excited for SJTR:
1. Characters. Each and every one. I'm excited to meet feminist badass Audrey Rose, the suave Thomas and everyone else that we shall meet within!
2. I'm excited that this book follows bloody things and forensic medicine because I've always LOVED TV shows that have been like this and I am even more stoked if it has any of the humor from Psych or White Collar mixed with the bloody and creepy of Criminal Minds and CSI. That's my hope and the whole idea of the book gives off that vibe!
3. I'm in LOVE with mysteries. I mean Scooby Doo was my favorite thing in THE WORLD growing up so any form of mystery that will be held in this book will make me happy. And this is much bloodier I'm sure. SO YES FOR MYSTERIES AND BLOOD!!!
4. It doesn't hurt that Kerri Maniscalco is one of the sweetest humans in the world and I'm actually excited to see how dark this book can get because Kerri gives off such a bright positive energy and I have a feeling the words in this page us will surprise us in all of the best of ways!
5. VICTORIAN ERA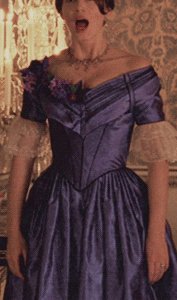 (I actually have no idea what she is saying nor do I care but I thought the dress was appropriate.)
6. I mean the hype really helps making me excited!!!! :D
7. I'm honestly just so so so excited for this book and I hope you are too!
Literally exactly how I feel about this book right now!
Here are the links to platforms to preorder this bloody book!
Goodreads
|
Amazon
|
Barnes& Noble
|
Indiebound
Here are the links to Kerri Maniscalco's platforms!
Twitter
|
Facebook
|
Instagram
|
Website
|
Tumblr
|
Pinterest
Are you excited for Stalking Jack The Ripper? Let me know why in the comments! And continue following the blog tour as it goes every day until release day (September 20th)!!! :D