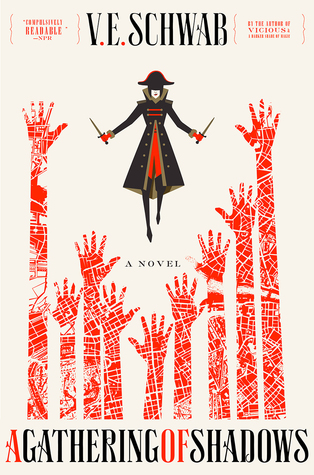 Title: A Gathering of Shadows
Author: V E Schwab
Page Count: 512
Genre: Adult, Fantasy
Rating: 4 Stars
Source: Annelise preordered two copies for us <3
Synopsis: Four months have passed since the shadow stone fell into Kell's possession. Four months since his path crossed with Delilah Bard. Four months since Rhy was wounded and the Dane twins fell, and the stone was cast with Holland's dying body through the rift, and into Black London.

In many ways, things have almost returned to normal, though Rhy is more sober, and Kell is now plagued by his guilt. Restless, and having given up smuggling, Kell is visited by dreams of ominous magical events, waking only to think of Lila, who disappeared from the docks like she always meant to do. As Red London finalizes preparations for the Element Games—an extravagant international competition of magic, meant to entertain and keep healthy the ties between neighboring countries—a certain pirate ship draws closer, carrying old friends back into port.

But while Red London is caught up in the pageantry and thrills of the Games, another London is coming back to life, and those who were thought to be forever gone have returned. After all, a shadow that was gone in the night reappears in the morning, and so it seems Black London has risen again—meaning that another London must fall.
This was the first book we have ever buddy read! We didn't really do much except reading it at the same time but it was a lot of fun!
Cody's Review:
Oh god, this book. Though I preferred it's fast-paced predecessor A Darker Shade of Magic to this installation, I still absolutely adored this novel.
I love the simplistic covers, and am so thankful Annelise has no control, because she ordered two copies and so we both received the beautiful cards of Alucard, Stasion, Kamerov, and Kisimyr! They are goooorgeousss!
A Gathering of Shadows starts off four months after the ending of ADSOM and we get to see our beloved friends once more. Lila is off on a pirate, -I mean-,
privateering
ship. The captain, Alucard Emery is freaking fantastic, and his dynamic with all of the characters is lovely.
Kell, back in Red London is having to deal with King Maxim's wrath as Rhy and Kell often sneak out together for various adventures that Rhy decides he needs to go to. This book we see a more serious side of Rhy and less of his quirk and charm, but I really like it nonetheless.
This book is definitely more of a character driven, character development book in comparison to ADSOM, at least in my opinion. This is a strong sequel, and there is something special about the way that Schwab introduces her story, and weaves the characters together. The book is a lot slower paced due to this, and for the most part, I was okay with that. Every once in awhile it dragged, but it would immediately pick up again.
Then there is the fact that upcoming is the Essen Tasch, the Element Games that Rhy is hosting. Alucard Emery, who has a past with a certain family in Red London, decides he is going to enter. It's a games between Arnes, Faro, and Veska in order to maintain a sort of peace between the neighboring countries.
The Essen Tasch itself is LOADS of fun to watch. I felt like I was there the entire time. That's another strength of Schwab's writing. She has this unparalled capability to write a visually striking scene. Everything she writes is so visual, playing out like a movie or a tv show (and boy am I excited for this show...) The Essen Tasch doesn't begin until almost 60% into the book so getting there takes awhile, but it is well worth the wait and a very intriguing section in the novel.
There are some scenes that we wait the entire novel for. Waiting for scenes between Lila and Kell are purely agonizing to me. I ship them so hard that waiting for them to be in the same room was crazy in of itself. But my god, do I adore their banter. Alucard and Lila's banter early in the novel was matching the banter between Kell and Lila and I was loving it, the fact that Lila had someone else to confide in and I just adored their interactions. We really got to see more of Lila's inner thoughts in this book, and she became more of a real character in my mind (She already was real, but this made her seem
more
real if that makes sense) Lila is the very definition of a strong female heroine (although she is more of an antihero like Kaz from Six of Crows) but Delilah Bard is my hero(ine).
I really want to know more about Rhy and Alucard's past because, well duh. I squealed at their interactions within the story. I especially love Kell's resentment of Alucard. Wonderful, wonderful, wonderful.
Where do I begin with our lovely evil villains? I can't. I simply cannot. Their chapters were sparse, but I liked it that way. Schwab really drew out the suspense with everything involving them, really making us feel that slow burning sensation, that ended up bursting into a large wall of flames and destroying all of our ability to feel, by overloading that sensation in our minds. Although while reading the novel, I wanted to get back with Lila or Kell, I think these were truly ominous strong points in the novel that I will probably remember more than the rest of the details. The fact of the matter is Schwab writes a
damn good
villain, and they are compelling. It will be phenomenal to see how the villains play out in the third book. It's going to be one wild ride.
Schwab wrote a cliffhanger that destroyed me. It rivals the cliffhanger I just watched on the season finale of How To Get Away With Murder for insanity levels. I love her acknowledgements when she writes how she waited six years, and nine books to use a cliffhanger like this. My god is she lovely. Evil? Yes, wholeheartedly, but also lovely.
It's been awhile since I read this book now, (about two weeks) and so I am adding a little bit... the fact that I have quite forgotten a lot of the details of this book already... Oops. I remember enough but I think that is the main reason I cannot give it 5 stars.
Annelise's Review:
Annelise's review has still not been written almost two months after we have finished the book. Eventually she will get around to writing said review, but we shall see! <3