I received this eARC from Net Galley in exchange for an honest review.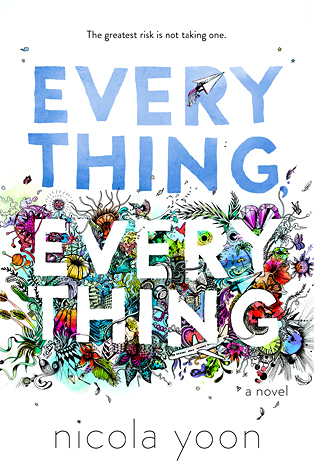 Title: Everything Everything
Author: Nicola Yoon
Page Count: 320
Genre: Young Adult, Contemporary
Rating 5/5
My disease is as rare as it is famous. Basically, I'm allergic to the world. I don't leave my house, have not left my house in seventeen years. The only people I ever see are my mom and my nurse, Carla.
But then one day, a moving truck arrives next door. I look out my window, and I see him. He's tall, lean and wearing all black—black T-shirt, black jeans, black sneakers, and a black knit cap that covers his hair completely. He catches me looking and stares at me. I stare right back. His name is Olly.
Maybe we can't predict the future, but we can predict some things. For example, I am certainly going to fall in love with Olly. It's almost certainly going to be a disaster.
Review: Everything (, Everything) about this book is beautiful. Simply put, it is near perfect. The concept is so simple yet so interesting. The story follows Maddy who has SCID, a rare disease which prevents her from leaving her house because she is allergic to everything. This leads to her having a very sheltered life. When a new boy, Olly, moves in next door, her life is flipped over and she begins to experience things she never thought she would ever get to.
This is my favorite contemporary novel I have read this year and one of my favorites of all time. This is my second favorite debut second only to EMBER. You cannot really compare the two except for the fact that they are both amazing and just great.
The storyline is beautiful. I flew through this book in one day. I didn't want to put it down. Truly, My heart was en-captured in this story. I immediately loved Maddy and every character I encountered from there on out. She is just lovable and relatable in a twisted way. She is someone I feel like I knew so well from the moment she first spoke. That is so difficult to do, and I am so proud of Nicola Yoon for doing so.
There is so much hype surrounding this book and I can honestly say that it is well deserved. The writing is simply elegant.
Before I even go further into the contents of the story lets just talk a moment about the illustrations.
David Yoon (Nicola's husband) did the illustrations throughout the novel.. THEY ARE SO BEAUTIFUL. They really bring the story home for me. It connects everything so well and they are so witty and comical and tragic. (Not all at the same time of course) So amazed by the talent of these two.
The characters were probably my favorite part of this novel. There was not one character I completely hated. I had a strong dislike toward one character, but that is it. Everyone else was lovely despite their many faults. Carla was probably my favorite character. One thing she told Maddy was "It's not your fault. Life is a gift. Don't forget to live it." and I loved that so much.
A few other quotes I loved include "Maybe growing up means disappointing the people we love."
"Love is a terrible thing and its loss is even worse."
"There's more to life than being alive."
That is just a little snippet of the beauty of Everything, Everything.
Seriously, this book is fan-freaking-tastic and I believe every person should purchase this book as soon as it releases. Pre-order it!!!!