This month's Sunday Street Team book is A SHADOW BRIGHT AND BURNING by Jessica Cluess!!
This is my first time participating in SST (which is hosted by the incomparable Nori at
ReadWriteLove28
) and I am so excited to talk about this fiery book! :D This book features one of the most badass, strong female protagonists I have read about in a long time and she can burst into flames which is such a plus!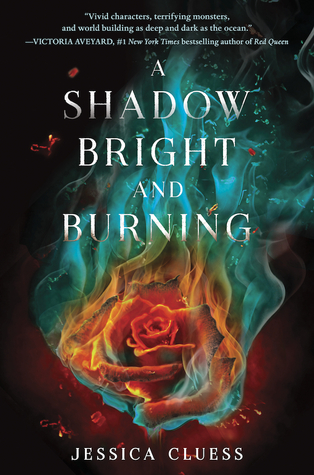 Review
:
4 magical stars for a magical novel!
"I know what it is to love someone so much that you would move the world only to see them smile"
CAN WE TALK ABOUT THAT QUOTE BECAUSE AHHHHHHHHHHHHHHHHH
So imagine trying to write a review that you had lots of opinions on... but didn't write the review right away so you're kind of kicking yourself in the butt trying to formulate your opinions coherently? This is me trying to write this review. Which I have spent a significant amount of time trying to write... But alas, the words weren't really coming to me.
And then the book was released into the world and something just burned up inside me and I know what I need to say to do this book justice. (OR DO I?)
This book is a beautiful burn of a book. Yes, alliteration is my favorite thing, that's why I'm using it. IT WAS REALLY GOOD GUYS.
This book follows Henrietta Howel as she learns to control her powers which are basically:
FLAME ON
and further develop them while dealing with these many boys who think they are better than her... and these Ancient's, the vicious creatures that are trying to destroy the world. GOD THE ANCIENTS ARE THE BEST FREAKING PART. THEY MAKE ME SO HAPPY IN A MORBID WAY AND I CANNOT GET ENOUGH!!!!
Henrietta is immediately likable and her journey and growth throughout the book is so realistic. (Which is really funny to say about a fantasy book lol) I love that it's not too fast, and not too slow.
The feud between magicians being tricksters and sorcerers being the higher class chosen ones was extremely well done and I love how it all played out in the novel. It's hard to talk about these things without giving things away, damn it...
The boys are swoonworthy af. There is definitely a potential for a love shape but honestly it didn't bother me... From Magnus to my personal favorite Dee... they are beautiful. There is something incredibly special about each boy and I'm just super proud of the way Jessica Cluess wrote these characters.
I could talk for a long time on Dee, and he wasn't even a huge part of the novel... which made me sad... because he was my favorite! Mostly because he was a redhead. (And I love redheads. One of my favorite fictional characters EVER,
I'm looking at you Jude from The Darkest Minds
, is a redhead. He brings me so much joy and I will bring everything back to him... :) ) Anyways, Dee was a sweetheart and too pure for this world. And did I mention he is a redhead? :)
Anyways, the character dynamics are beautiful. I love the bickering between Magnus and Henrietta and Blackwood. I love the growth of Blackwood. He became one of the strongest and one of my favorite characters in the novel.
"you've suffered a great deal. Remember you're not the only one."
This quote angered me like no other. Mostly in context of the specific time this was uttered. I like the idea but GOD IT PISSED ME OFF I WAS SO MAD AT THE CHARACTER THAT SAID IT AHHHH.
If you haven't already realized this book made me feel so many emotions. I'm still trying to wrap my head around it in this incoherent review thing.
Literally, I don't think I can really say anything bad about this book. It was slow in parts, and dragged slightly, but overall the magic that is held within the books pages made up for any slow aspect of the book.
Honestly, my actual favorite character was ROOK. He's such a heartbreaking character and learning his story was my favorite journey that we went on. I want to know everything about him, ever. His character arc and story arc was just perfect and shattering.
The romance in this book is mostly a tease, but I actually quite like that. It was both frustrating and perfect at the same time and I really like that. I am always picky about romance. And it's generally too much for me, or not enough but I feel this worked perfectly for the novel.
I do, have a criticism... now that I think about it. I feel like the way Jessica twisted tropes was very well done but I do feel more could be done. Don't get me wrong, I really enjoyed this book and thought the writing was great and very true to the time period... but there was something slightly missing. A little bit of magic was missing. Just a little. And I feel bad even thinking this. But I know that the sequel will be more magical and have what I was missing in this novel.
Mostly, this book was just loads of fun that I really enjoyed reading. I can definitely see where problems of pace and originality issues could arise for some readers... but for me, I thought the enjoyable sections far outshined the slow ones.
Jessica Cluess is a phenomenal writer and storyteller and I'm highly anticipating the sequel!


Goodreads Link:
I am Henrietta Howel. The first female sorcerer. The prophesied one. Or am I?
Henrietta Howel can burst into flames. When she's brought to London to train with Her Majesty's sorcerers, she meets her fellow sorcerer trainees, young men eager to test her powers and her heart. One will challenge her. One will fight for her. One will betray her. As Henrietta discovers the secrets hiding behind the glamour of sorcerer life, she begins to doubt that she's the true prophesied one. With battle looming, how much will she risk to save the city—and the one she loves?
JESSICA CLUESS is a writer, a graduate of Northwestern University, and an unapologetic nerd. After college, she moved to Los Angeles, where she served coffee to the rich and famous while working on her first novel. When she's not writing books, she's an instructor at Writopia Lab, helping kids and teens tell their own stories.
a Rafflecopter giveaway