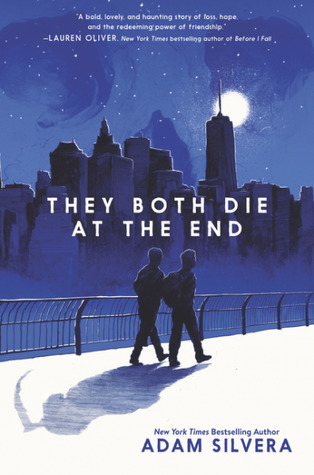 Title: They Both Die At The End
Author: the incomparable Adam Silvera
Page Count: 384
Genre: YA Contemporary, but like with a sci-fi twist that Silvera novels tend to have
Rating: 5 Stars, obviously.
Links: Goodreads IndieBound Amazon Barnes & Noble
Synopsis:
New York Times
bestselling author Adam Silvera reminds us that there's no life without death and no love without loss in this devastating yet uplifting story about two people whose lives change over the course of one unforgettable day.
On September 5, a little after midnight, Death-Cast calls Mateo Torrez and Rufus Emeterio to give them some bad news: They're going to die today. Mateo and Rufus are total strangers, but, for different reasons, they're both looking to make a new friend on their End Day. The good news: There's an app for that. It's called the Last Friend, and through it, Rufus and Mateo are about to meet up for one last great adventure—to live a lifetime in a single day.
Hey y'all! Wow, it's been awhile over here. I'm hoping to post a few posts these next few weeks, but we'll see how it goes.
Review:
If you follow me on Goodreads- you've seen this review. But I need to share my love of this book here- because it is everything to me. Something about a Silvera novel, magical in its own way. These books feel like they were written for me, at different points in my life- and I hope one day I can do the same sort of thing with my writing. Thank you Adam, for inspiring me every single day of my life.
Damn it Silvera does it once again: makes me feel emotions that I didn't think I was capable of feeling.

the convict: THEY BOTH DIE AT THE END
the charge: murdering me
plea: guilty

This story shows the importance of friendships, no matter how long you have known someone. all it takes is one day to change someone's entire life.

in a world where you get a call the day you are going to die, TBDATE follows Mateo and Rufus who meet through the Last Friend app, and they travel the town, trying new experiences on their last day on earth.

It's as tragic as it sounds.

highlights include:

● beautiful writing

● dynamic characters

● short perspectives from people who aren't dying today [trust me when I say these are just as tragic as the rest of this book]

● specifically Dierdre's story she is writing. *looooooooove*

● the pure Mateo

● the badass on the outside yet soft TM on the inside, Rufus

● killer concept with a killer execution

● the best of friendships

● seriously though, all of Rufus and Mateo's friends are lovely and caring and ugh

● the importance of Mateo's dad to him *cries* it's so refreshing.

● "Here's my version of Utopia: a world without violence and tragedies, where everyone lives forever, or until they've led fulfilling and happy lived and decide themselves that they want to check out whatever's next for us."

● existential conversations that make my heart sing [afterlives]

● though tragic [as Silvera books usually are] it is also laced with hope throughout [I'm sensing a theme here]

● "you may be born into a family, but you walk into friendships. Some you'll discover you should put behind you. Others are worth every risk."

Most importantly: this book is wonderfully moving and I cannot recommend it (and all Silvera books) enough.

I'd go as far to say that it's Adam's best book yet.

Love love love