I received an e ARC in exchange for an honest review.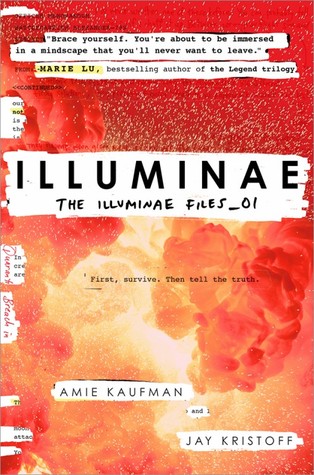 Title: Illuminae
Author: Amie Kaufman and Jay Kristoff
Page Count: 608
Genre: Young Adult, Science Fiction
Rating: 5/5 FOR SURE
Blurb:
This morning, Kady thought breaking up with Ezra was the hardest thing she'd have to do.
This afternoon, her planet was invaded.
The year is 2575, and two rival megacorporations are at war over a planet that's little more than an ice-covered speck at the edge of the universe. Too bad nobody thought to warn the people living on it. With enemy fire raining down on them, Kady and Ezra—who are barely even talking to each other—are forced to fight their way onto an evacuating fleet, with an enemy warship in hot pursuit.
But their problems are just getting started. A deadly plague has broken out and is mutating, with terrifying results; the fleet's AI, which should be protecting them, may actually be their enemy; and nobody in charge will say what's really going on. As Kady hacks into a tangled web of data to find the truth, it's clear only one person can help her bring it all to light: the ex-boyfriend she
swore
she'd never speak to again.
Told through a fascinating dossier of hacked documents—including emails, schematics, military files, IMs, medical reports, interviews, and more—
Illuminae
is the first book in a heart-stopping, high-octane trilogy about lives interrupted, the price of truth, and the courage of everyday heroes.
Review:
HOLY MOLY CANOLLI!
I have a feeling this will end up being one of the longest reviews I have written due to so many things needing to be said.
Illuminae is one of the most unique books I have EVER read in my entire time of existing. Not only is it so unique, but it is super duper crazy interesting!
I am not usually a science fiction kind of guy, but I think I will start reading more of it if any of it is even slightly reminiscent of this intensity and action and amazing writing!
The formatting of the book is very interesting and wonderful. I haven't heard of any book like it. (Do they even exist?)
This book has been hyped about for so long, that I of course wanted it desperately. Getting approved made my day. But, of course I tried not to get my hopes up too much, because I didn't want to hate it if it wasn't as great as I was expecting... Once I started it, I was immediately hooked! I found myself reading during meals, between commercials for shows I watch. Every single moment I could this book was being read.
It starts off straight into the action. Kady and Ezra describing the series of events that took place, THROUGH INTERVIEWS. IT IS SO COOL. It makes reading it easier and more like reading a text which helps with our short attention span nowadays. It doesn't stop there, later in the story we get Kady becoming this crazy hacker girl and holy cow is she amazing.
We get to meet a series of characters that are very flawed and live on these various ships, Alexander, Copernicus and Hypatia.Ibelieve they are ships, that can be confusing at times.) They are also being chased by another ship called the Lincoln, which is controlled by BeiTech, one of the mega-corporations. After trying to destroy Kerenza, they are now chasing, with the intent to kill, these other ships.
The profanitycould be a bit excessive in spots, but it fits the characters so well that I didn't find it bothering me too much.The Ebook version is also a bit annoying, but it's because this book is written for printed copies and needs to be that way. (Reading it on an ereader doesn't make it less enjoyable of a read just frustrating when you cannot see some of the words and such.)
Continuing with my thoughts on this book: WOW. There is so many things to say yet I am left speechless by this story. Amie Kaufman and Jay Kristoff are freaking geniuses, I swear.
As I continue my thoughts as I read this book I have decided that I should probably break this up into categories to further explain my thoughts and organize them better.
Plot: The entire storyline is so thought out and complicated, that it is impossible to hate it. Every main plot point, and side plot point matters. When some of the characters perish, you care, you feel for them, and those who survived. The Phobos disease is so incredibly interesting, and it is such a great aspect to this story as it truly motivates almost everything that happens. As I am nearing the end of the book, the action does not stop here. It is still intense even in the last few pages. Just, woah, Intensity from beginning to end. The last few pages really leave it open for the next book, and makes me all the more excited. 20 pages before that I would have been content with it as a standalone, despite a few unanswered questions that were minor. I am SO SO SO excited for the next installment as I know it is going to be absolutely phenomenal.
Characters: Kady is a total bad ass, with pink hair. She is totally a nerdy girl and I love it. Ezra is so freaking inappropriate, but we all love him. and freaking AIDAN OH MY GOD. AIDAN could very well be my favorite character do the complexities of him (is that right? AIDAN is a computer.. whatever)
The ominous way he speaks is enthralling. Also, AIDAN speaks like a human, proving that AI's can possibly have emotion, or at least learn what certain emotions should feel like. It's very interesting.
James McNulty is one of my favorite side characters to this entire adventure. Just everything about him is wonderful. He has his inappropriate moments with Ezra, but whatever.
All the characters are extremely well written. They are multi-dimensional and I love that. AIDAN is officially the most interesting character I have read in a long time and he just intrigues me to no end. Just wow.
Writing: The way this is written is full of intrigue and suspense and action like no other book I have ever read.The unique formatting allows for anyone to be interested in different sections.. From the military reports which are informational, to the IM's which are hysterical, to AIDAN's POV which is both creepy and sweet at the same time. The interviews were interesting at the beginning. Syra Boll's POV was also interesting on Hypatia. Everything Kady ever expressed always caught my attention. There is one line in particular where she says that her therapist tells her she needs to talk about her feelings, and she proceeds to say that she has a heart of stone, of course and doesn't have them I definitely chuckled. This book is intense, but it has its hilarity inside and sprinkled in which eases the emotional pain that it can cause. I adore this books style, and everything inside.
Weeks after reading this, everything is still fresh in my brain, down to some of the minuscule details that are shown. I am still gushing over my love for Kady, and the misunderstood AIDAN. I cannot get over the quality of thought put into this book, it is just so well thought out.
Please read this book guys, seriously. I'm not sure this is the best book I have ever read,but it is one of the best books I have read in a LONG time.
I keep coming back to this and its intense beauty, my love continues all the same. I need everyone to experience the perfection.